January 11, 2019 · Written by Foodtolive Team
Red Lentil Soup
Prep Time: 10 minutes | Cook Time: 20 minutes | Total Time: 30 minutes | 6 Servings
INGREDIENTS:
1 tsp coconut or olive oil
1/2 yellow onion chopped
2-3 medium carrots about 3 cups chopped
1 stalk of celery chopped
3 cloves garlic minced
1 tbsp fresh ginger minced
1/2 tsp cumin
1/2 tsp turmeric
1/2 tsp fresh ground pepper
Sea salt to taste
400 g canned tomatoes
6 cups / 1.5 litres vegetable stock
1 cup red split lentils soaked
1 cup spinach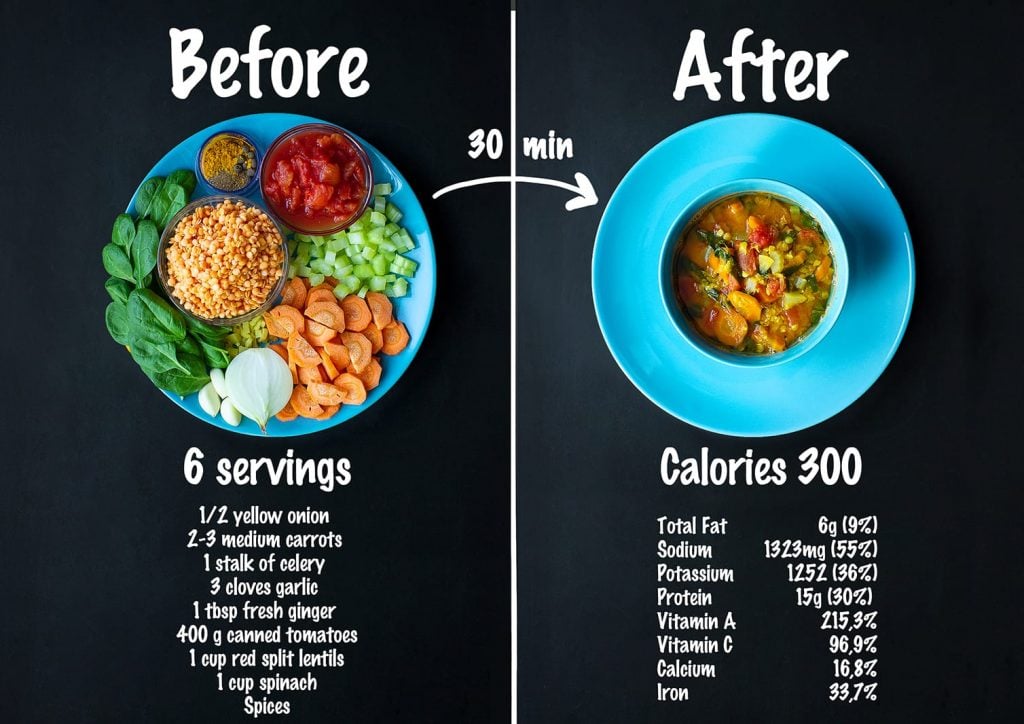 INSTRUCTIONS:
In a large pot, heat the oil over medium. Add the onion and garlic and sauté for a couple of minutes or until soft and fragrant.
Stir in the carrots, celery and cook for another minute or two. Add spices, stirring to coat the vegetables.
Add tomatoes and pour the vegetable stock in.
Increase the heat to high and bring the soup to a rolling boil. Add the lentils and reduce the heat to medium-low and simmer for 20-25 minutes, or until the carrots are tender.
Turn off the heat and stir in the spinach.