January 18, 2016 · Written by Foodtolive Team
Pregnancy Meal Planning: Tips and Delicious Ideas
Good nutrition is a must during pregnancy as it directly affects both your health and the baby's development. However, eating healthy is quite a challenge, especially if you lead an active and busy life. Therefore, you should start on pregnancy meal planning in advance. This way, you will always have some good food in the fridge and healthy snacks on hand.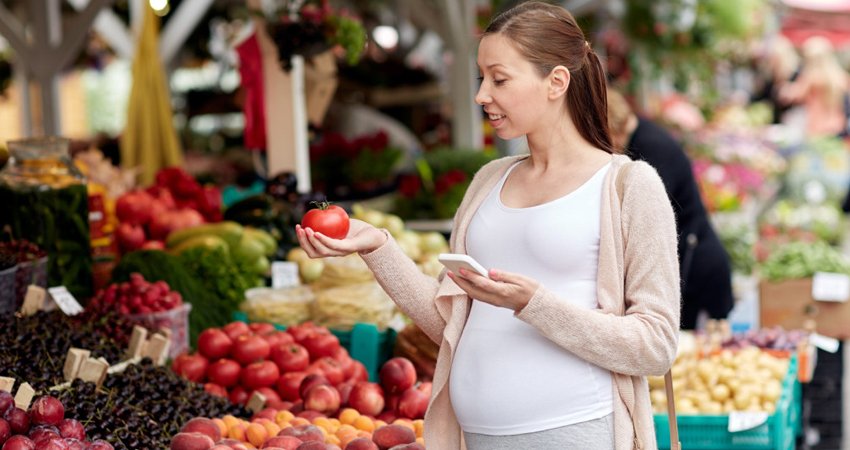 Pregnancy Meal Planning: How to Make Time
If you have a busy schedule, we suggest you take one day out of the week and dedicate it to food prep. During this day you should:
Go grocery shopping.
Pregnancy diets require a lot of fresh foods, so you'll need to go shopping at least once a week. Buy everything you will need to cook the meals you plan for the next week and a little bit extra for the times when sudden food cravings start. Of course, it's impossible to predict all pregnancy food cravings but you know yourself best. Assess your usual eating habits and build your shopping list based on them.
Prep the food.
Chop and wash whatever necessary and put the food in containers in the fridge. Preparing some ingredients in this manner will reduce the cooking time when you actually get to make your planned dishes. Therefore, you will be able to get healthy meals without upsetting your daily schedule with extended periods of cooking. For example, you can chop onions and bell peppers, marinate meats and fish and grill them. Having all these ingredients on hand will allow you to throw together a delicious and healthy sandwich fast so you'll have something to take with you to the office.
Preparing your meals in this manner will make switching to healthy eating habits an easy and stress-free experience, even if your everyday life is busy. However, this will work only if you have your weekly menu planned in advance. This is where pregnancy meal planning gets tricky as you have to be very specific about what you put into your body during this time. We offer some simple and delicious ideas you can use to enjoy your pregnancy diet.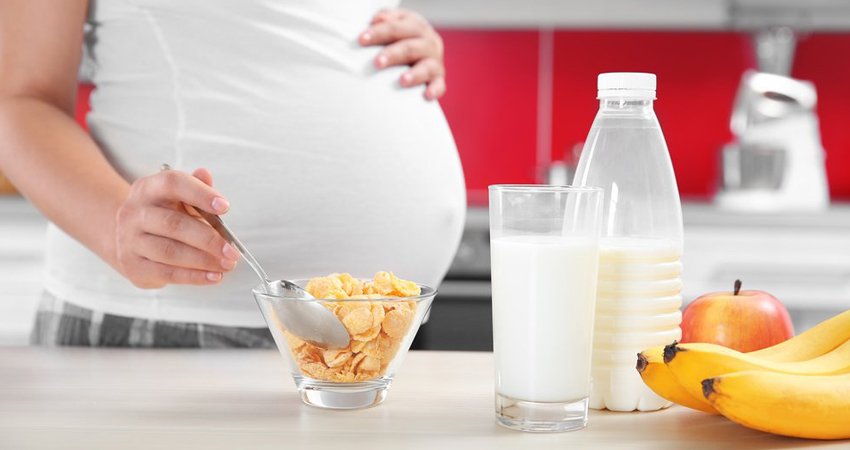 Pregnancy Breakfast Ideas:
Green smoothie with spinach.
Green smoothies are great for your body and very easy to make, so it's a great weekday breakfast option.
Take ½ cup of no-fat Greek yogurt, a cup of frozen fruit (any kind), 2 tablespoons of chia seeds, and a handful of fresh spinach leaves. Blend everything together and add water if necessary.
Egg muffins.
Put some chopped veggies and grilled meat (if you eat it) into a non-stick muffin pan and pour a whisked egg over them. Bake at 350 degrees for 20 minutes. Make a batch and store them in the fridge to have a healthy breakfast within easy reach. 
Oatmeal with blueberries.
Use organic oats and either frozen or fresh blueberries and season to your liking. This breakfast will provide you with a boost of energy and antioxidants.
Scramble eggs, add some chopped veggies and sprinkle everything with cheese. Serve in a warm tortilla. You can make a batch, freeze them, and reheat when necessary.
Cookie dough cereal.
This is a breakfast for those who have a sweet tooth. Take some plain organic oats, 2 tablespoons of peanut (or any other nut) butter, 1 teaspoon of honey, and sprinkle everything with unsweetened cocoa powder. Mix the ingredients, add a cup of milk, and enjoy.
Veggie Omelet.
Make your regular omelet and add some chopped veggies to it. Fresh herbs add flavor and provide you with essential antioxidants.
Southwestern scramble.
Scramble together 2 eggs, hatch chiles, shredded chicken (optional), onions, and avocado.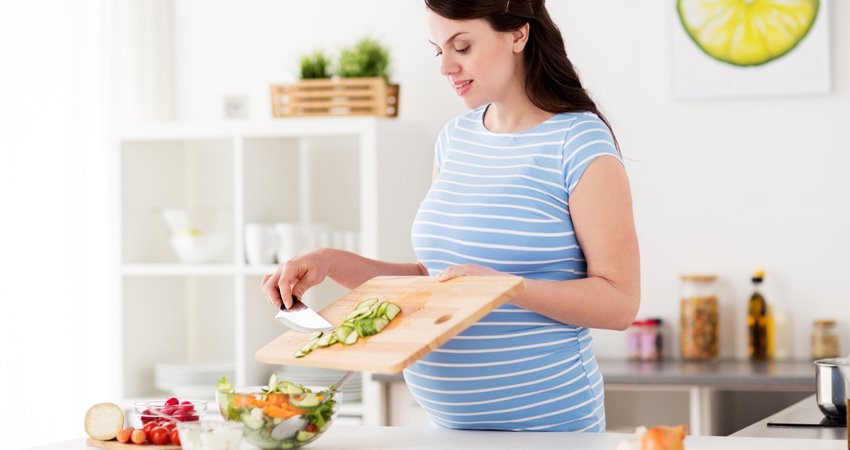 Pregnancy Lunch Ideas:
Whole wheat pita sandwich.
Take a whole wheat pita and stuff it with fresh delicious veggies and some pasteurized cheese. Season with mustard and don't forget about fresh herbs.
Super salad.
Basically, it's a salad made from superfoods of your choosing. Here's an example mix: kale, tomatoes, bell peppers, carrots, cucumbers, walnuts, pumpkin seeds, and pomegranate seeds. Dress the salad with olive oil and balsamic or apple cider vinegar. You can also add some hard-boiled eggs and grilled chicken.
Quinoa salad.
Prepare your quinoa in advance and store in the fridge to reduce the cooking time. Season the salad with herbs and spices of your choosing. Mix quinoa with avocado, bell peppers, artichokes, and cherry tomatoes. You can also add pre-cooked or sprouted garbanzo beans to enhance the taste as well as increase the nutritional value of the meal.
Vegetable soup.
Basically, just take any vegetables you have on hand and love, and make a soup to your liking. You can store it in the fridge and heat up a bowl every day if you are too busy to cook. You can even take it with you to the office in a thermos. 

Sponsored by Food to live

Brown rice chutney salad with raw cashews.
Take several cups of cooked brown rice, some shredded carrots, dried cranberries, 1 chopped red bell pepper, 2 sliced green onions, and some chopped baby spinach. Mix all the ingredients together in a bowl. Next, whisk together ½ cup of mango chutney, olive oil, vinegar, curry powder, salt, and garam masala. This is a rather spicy seasoning, but you can choose spices based on your personal taste. Toss everything together and put the salad in the refrigerator for a few hours. Before serving, add one chopped apple and 2 handfuls of raw cashews. You can add these nuts to any salads or just eat them as snacks because cashews are great during pregnancy.
Burrito bowl.
Take some cooked brown rice (make in advance and store in the fridge), add cooked black beans and roasted peppers. Season everything with salsa and lime juice.
Veggie pizza.
Experiment with various ingredients that you like. Here's an idea: spinach, basil, minced garlic, caramelized onion, sun-dried tomatoes, and roasted peppers. Layer the ingredients on a piece of whole wheat naan and bake for 10 minutes.
Taco salad.
Rub whole wheat tortillas with olive oil and sea salt, press into a bowl (oven safe) and bake for 10 minutes (until crispy). Now that you have your own tacos, add some shredded greens, onions, sliced avocado, and chopped veggies of your choosing. Top with a bit of Greek yogurt mixed with salsa.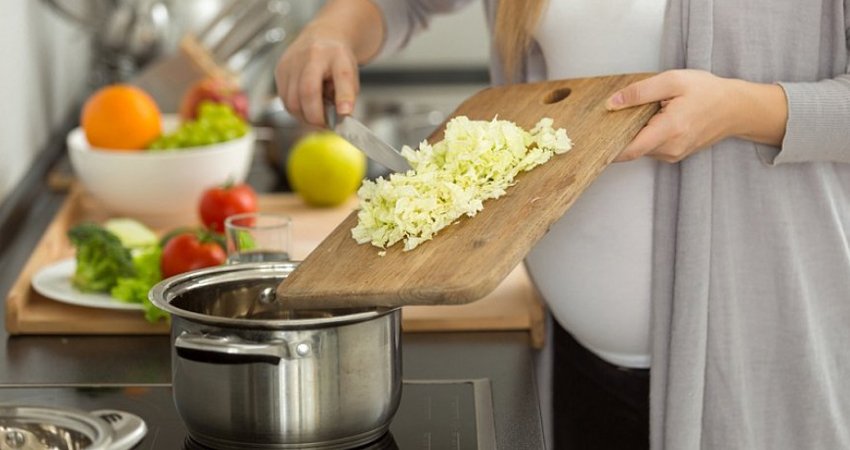 Pregnancy Dinner Ideas:
Baked salmon with vegetables.
This meal is easy to cook, especially if you marinate the salmon in advance. Just put the ingredients on a baking tray, season with spices of your choosing and olive oil. Bake until the fish is ready.
Spinach, strawberry, and chicken salad.
Mix baby spinach with sliced strawberries and almonds. Add some diced cucumbers and grilled chicken. Season with a mix of olive oil, organic honey, lemon juice, and vinegar. 
Spaghetti with spinach meatballs.
Cook whole wheat spaghetti and toss them with garlic, olive oil, tomatoes, and basil. Make "meatballs" from spinach, kale, broccoli, minced onion, garlic, and egg. Bake them in the oven and serve the delightful meal.
Stuffed acorn squash.
Stuff a roasted squash with cooked beans, spinach, and chopped veggies of your choice. Bake in the oven until hot and sprinkle with cheese before serving.
Thai meatballs with broccoli and noodles.
Make a Thai sauce by whisking together peanut butter, coconut milk, curry paste, soy sauce, egg, sesame oil, and a touch of honey. Make meatballs from lean meat of your choosing mixed with soy sauce and spinach. Bake the meatballs until cooked, steam-cook broccoli in the meanwhile. Serve together over wilted bean sprouts and seasoned with the sauce.
Roasted shrimp with vegetables.
Toss together peeled and de-veined shrimp with broccoli, onions, cauliflower, chopped tomatoes, and minced diet. Add a little olive oil, lemon juice, and spices of your choosing. Roast everything until the shrimp and veggies become tender.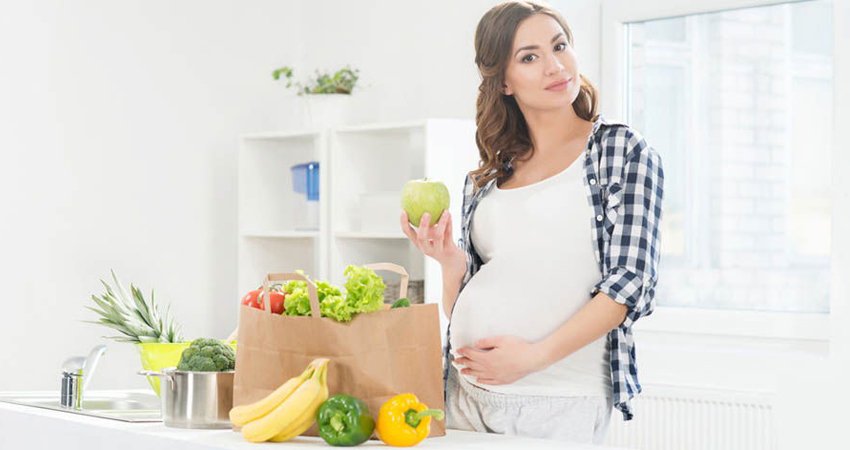 Enjoy Healthy Eating while Pregnant
As you can see, cooking healthy can be easy even if you have very little time. Plan your meals to ensure you and your baby get strong and healthy. You can find plenty of great quality ingredients for making these and other delicious pregnancy meals.