May 18, 2015 · Written by Foodtolive Team
Poppy Seeds: The Most Useful Information
The poppy plant (opium poppy) is a very common herb that grows in the Eastern Mediterranean region and Asia. Over the years, people have discovered a great number of uses for this plant, and quite a few of them are rather sinister.
Ripe poppy seeds, however, are perfectly safe. In fact, they are so nutritious and overall good for your health that you definitely need to eat them as often as possible. On the other hand, unripe seeds of the opium poppy plant contain dangerous and addictive alkaloids, like morphine.
Dreadful as it may seem to some people, there is no arguing the fact that morphine and even opium played (and still play) an essential role in medicine. There is no better painkiller, and even during ancient times, opium was used to relieve the suffering of those who had no chance of survival due to the extensive injuries received in battle. It was only later that people started to abuse the drug and opium became the bane of existence to thousands of people who succumbed to its lure.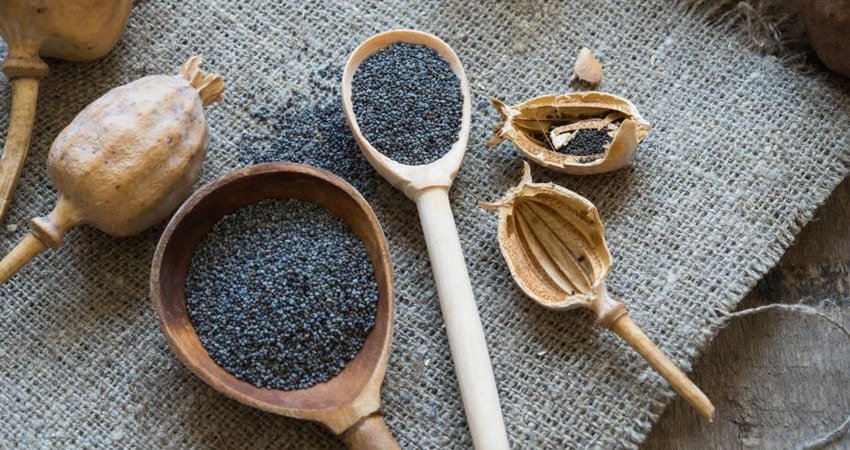 Poppy Seed Benefits for Health and Beauty
Once the seeds are ripe, only trace amounts of the psychoactive alkaloids remain, so the seeds become completely safe to consume, even for children. Cooking further destroys any of the psychoactive substances contained in the seeds, so only the most important nutrients remain.
Poppy seed nutrition value is very high, which is one of the most important benefits offered by this food. The most important elements you can obtain from the seeds are:
Oleic and linoleic acids.
These are essential fatty acids that help reduce the amount of "bad" cholesterol and protect your arteries by strengthening and cleaning them. Consuming foods rich in these elements reduces the risk of stroke and heart disease.
Dietary fiber.
This element is essential for keeping your digestive system in good health. You need quite a lot of fiber every day, especially if you are trying to lose weight and normalize your metabolism. Therefore, every source that provides you with even a tiny amount of it is to be appreciated.
B vitamins.
Thiamine, riboflavin, niacin, folic acid, and pyridoxine are the most essential of the B vitamins hat you can obtain from poppy seeds. They affect your metabolism, normalize digestive function, maintain the health of your nervous and circulatory systems, and improve your overall wellbeing in general.
Copper and calcium.
Two tablespoons of poppy seeds can provide you with a quarter of your required daily dose of both copper and calcium. These minerals play an essential part in your bone health. Calcium is also necessary for your heart and nervous system while copper helps your connective tissues to remain strong.
This mineral plays an essential part in the production of collagen, and you can get 51% of your recommended daily dose of it from only 2 tablespoons of poppy seeds. This is the reason that makes this particular food so good for your looks, as it's the lack of collagen in your body that leads to the appearance of wrinkles and sagging skin.
As with all seeds, the ones extracted from the poppy plant also contain high amounts of other important minerals and some vitamins, which adds to their nutritious value.
Some of the best uses for poppy seeds known to people today are:
When ground into paste, the seeds make an excellent moisturizer that can nourish your skin and reduce inflammation. It possesses excellent cooling and rejuvenating effects.
Due to high content of the elements that affect your digestive system, poppy seeds make an excellent cure for various digestive disorders and stomachache.
If you soak the seeds in milk and ground them into paste, you will get a great natural treatment for eczema. It will reduce the inflammation and relieve the nasty burning sensation caused by the condition.
Combine poppy seeds, coconut milk, and pulped onion to make a hair pack that will stimulate hair growth and assist in the treatment of alopecia.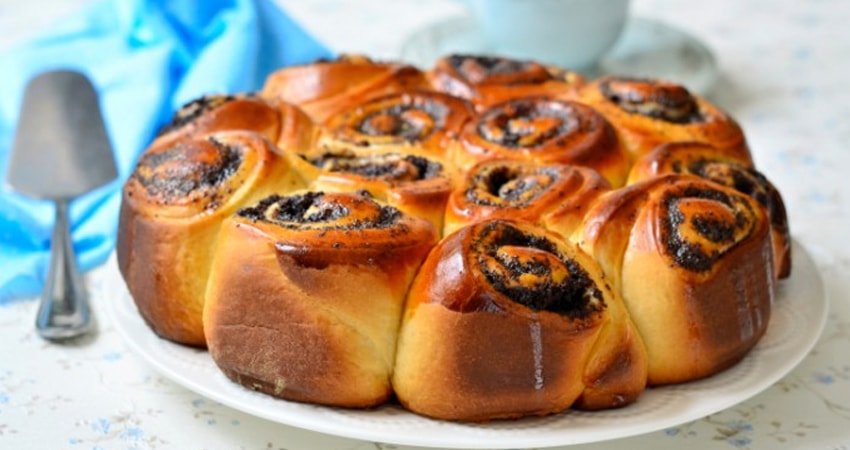 Poppy Seed Recipes
As these seeds are mostly used as a condiment, there is no surprise that there are plenty of poppy seed recipes in several cultures. Mediterranean and Indian cuisines are especially rich in those. The best thing about this particular food is that it goes equally well in bakery, salads, and even sauces. You can add poppy seeds to a great number of dishes to enrich the taste of familiar foods.
You definitely need to know at least one poppy seed salad dressing recipe, as adding this particular ingredient allows you to create a truly unique flavor that will make any salad taste really special.
Here is a simple recipe you can use:
Gather the ingredients:

1 ½ cups of white sugar
2 teaspoons of salt
2 teaspoons of dry mustard powder
¾ cup of white vinegar
2 cups of vegetable oil
3 tablespoons of onion juice
3 tablespoons of poppy seeds

Put all of the ingredients in a jar and shake vigorously for them to mix properly.
Store the dressing in a closed jar inside the fridge and re-shake it before using it.
It's also imperative that you look up some poppy seed bread recipes, as this ingredient is perfect for baking because it adds great flavor and crunch to bread and pastries.
Sponsored by Food to live
Here is a simple recipe for delicious and sweet poppy seed bread:
Gather the ingredients:

3 cups of flour (all-purpose)
2 ¼ cups of white sugar
1 ½ teaspoon of salt
1 ½ teaspoon of vanilla extract
1 ½ teaspoon of baking powder
1 ½ teaspoon of almond extract
3 tablespoons of poppy seeds
¼ cup of orange juice
1 ½ teaspoon of butter flavored extract
1 ⅓ cups of vegetable oil
3 eggs
1 ½ cups of milk
2 cups of confectioner's sugar

Mix flour, salt, poppy seeds, baking powder, butter flavoring, milk, sugar, vanilla extract, oil, eggs, and almond flavoring and pour the batter into a 9-inch loaf pan (with a greased bottom).
Bake the bread at 175 degrees Celsius (350 F) for an hour.
Leave the bread to cool down for about 5 minutes.
While the bread is baking, prepare the glaze. To do this, mix orange juice, butter flavoring, almond flavoring, and vanilla extract with confectioner's sugar.
Pour the glaze over warm bread and leave to cool.