August 25, 2018 · Written by Foodtolive Team
Our Favorite Vegetarian Tacos Recipes
Is it "Taco Tuesday" yet? People just can't wait for Tuesday to come for that after office taco night or for a light dinner taco take out. It serves as a custom in the US especially in big cities that restaurants will offer a special discount on tacos every Tuesday. Who wouldn't love tacos? Tacos are a Mexican staple consisting of fried, baked or soft tortilla, made of corn or flour, folded in u shape and stuffed with mixtures of seasoned meat, vegetables, tomatoes, and cheese. It is easy to hold, convenient to eat and very satisfying.
Tacos are well-loved food by the Mexican for many years and its popularity now is being enjoyed globally. What is lovelier about this food is that you can make variations when it comes to its stuffing. You can have it with meat or you may opt for a healthy twist of all-vegetarian tacos that are equally delicious.
If you are leaning on a healthy take away of this food, you should definitely have a bite or two of these vegetarian tacos that can be as delicious as the traditional meat-based ones and you don't need to wait for Tuesdays to enjoy these tacos. Now, you can have this scrumptious food any time of the week as we rounded up these mouth-watering vegetarian tacos recipes that are easy to prepare and will keep you in tip-top shape.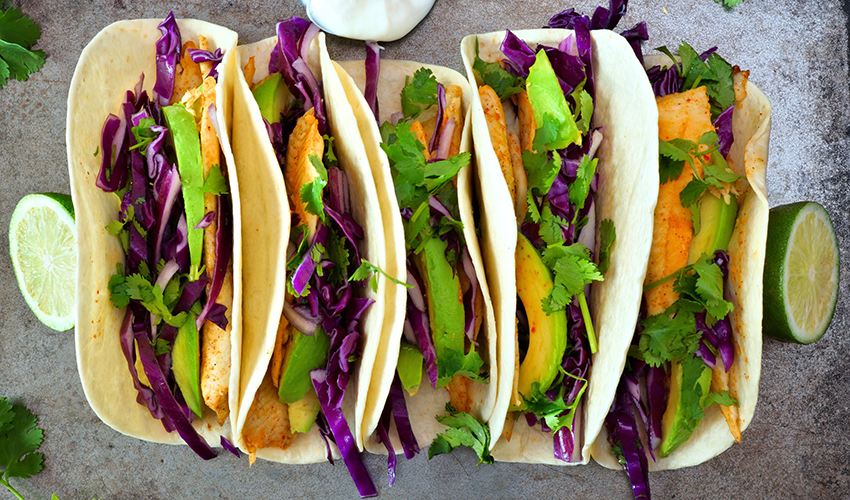 1. Mango tempeh in peanut sauce
This veggie recipe has a feel of Asian wrapped in it. Mangoes have a refreshing, sweet and tangy taste that compliments the neutral taste of seared lightly marinated tempeh. It is then combined with added crunch from red cabbage and creaminess of avocado drizzled with tasty coconut peanut sauce that makes a dynamic taste group of savory, sweet, crunchy and spicy in one good taco.
Start with marinating tempeh strips in tamari and olive oil. In a large skillet, seared tempeh until cooked and browned on both sides. Mix together the ingredients to make peanut sauce which includes ½ cup coconut milk, 2 tablespoon peanut sauce, 2 teaspoon soy sauce, lime juice, and sriracha in a jar with a lid. In a bowl, squeeze in the lemon and add a pinch of salt to red cabbage. To assemble tacos, put tempeh strips, red cabbage, mango, scallions, avocado slices and cilantro over soft or fried tortillas and drizzle peanut sauce on top. Serve and enjoy all the goodness right away.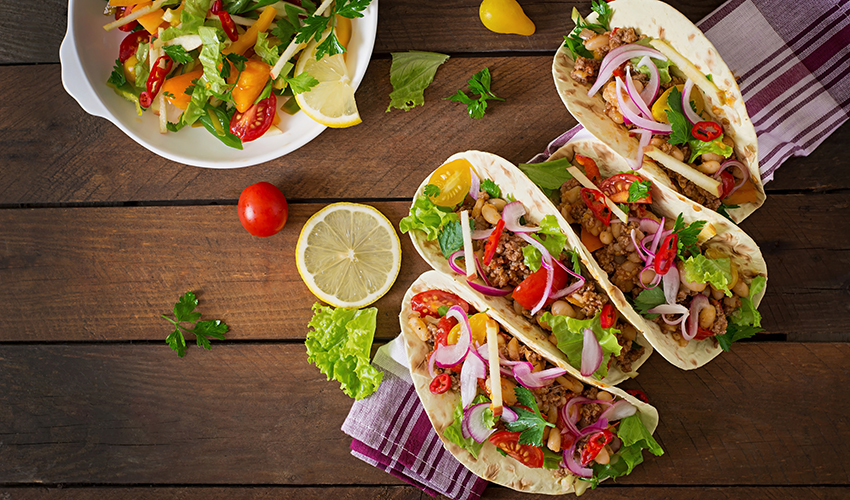 2. Four beans, quinoa and veggie tacos
In a large bowl, combine 2 cups each of cooked garbanzo beans, black beans, kidney beans, and pinto beans together with 2 cups cooked quinoa, red bell peppers, green bell peppers, yellow bell peppers, cherry tomatoes, cilantro, onions, and spinach. Toss them with fresh lemon and add freshly ground black pepper. Put them on lightly grilled soft corn tortilla topped with slices of avocado and drizzle with hot sauce. It's amazingly easy to prepare and oozing with good taste.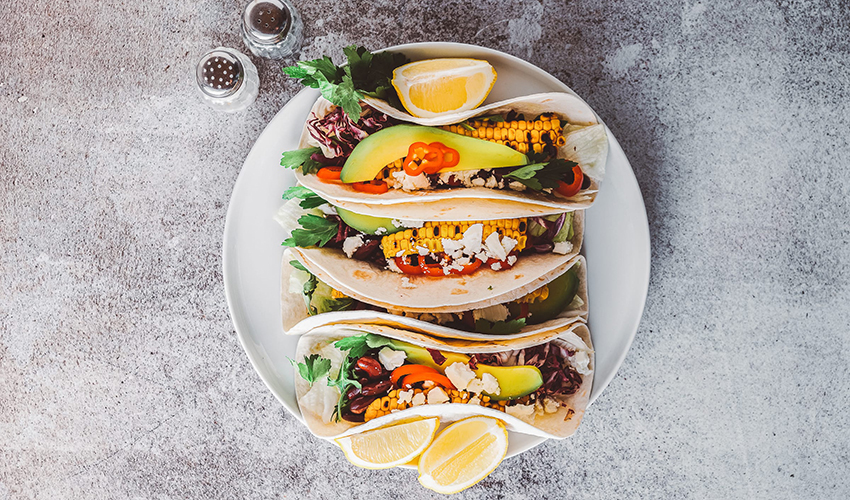 3. Bean and salsa vegetarian tacos
You will never miss single meat on this recipe. It has an incredible taste with loads of veggies that will supercharge your fiber and protein intake. It also has healthy fats from avocado and a great taste from mangoes. This is a perfect budget-friendly family food because you can prepare it in large and big batches at a lower cost.
Slice onions in half rings and bell pepper in lengthwise. Pour olive oil in a pan and sauté onions and bell peppers. Add in a can of black beans, garlic, 1 teaspoon cumin, salt, and pepper. Set aside. To make the salsa, mash one medium avocado in a bowl then add finely diced onion, cubed mango, and tomatoes season with ½ of lemon juice, salt, and chopped cilantro. To assemble, heat up the tortillas according to package directions. Fill the tortillas with the onion bean mixture and avocado salsa. Top it with a dollop of cream cheese, squirts of lime juice, cilantro and a drizzle of hot sauce of your choice. Bite up and enjoy!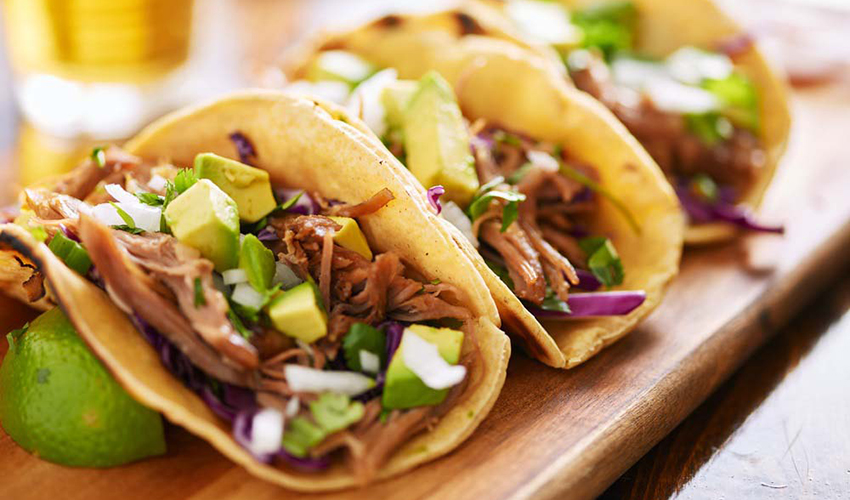 4. Lime cilantro Portobello tacos
Marinate Portobello mushrooms by combining olive oil, lime juice, finely chopped cilantro and ½ teaspoon sea salt. It is preferred that you marinate it for 8 hours so it can soak up all the juices from the marinade sauce. When mushrooms are marinated, grill them using a grill pan over medium heat until it is cooked. To assemble, fill the tortillas with slices of Portobello, slices of avocado, shredded purple cabbage, jalapeno, and squeeze of lime juice. Serve hot and enjoy.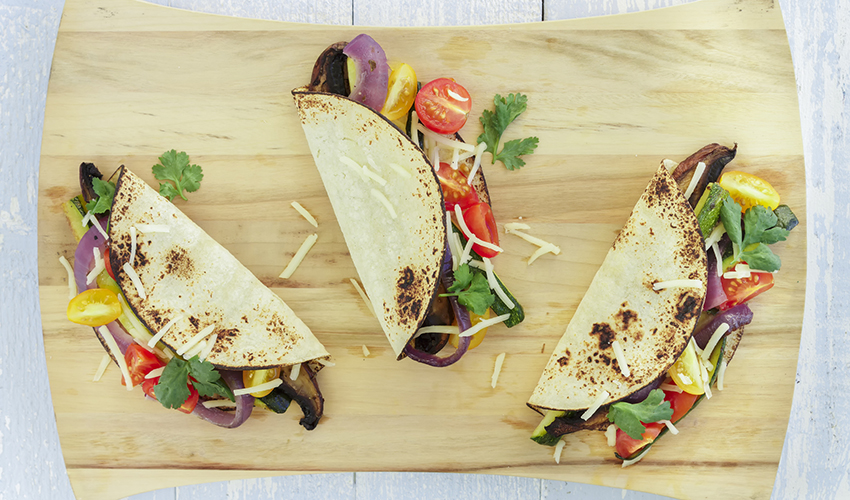 5. Vegetarian tacos with spicy crema
Even if you are not a vegetarian, you still need to have a break from eating meat once in a while. Our body craves for balance to get a variety of nutrients that it needs and eating meat every single day does not provide that. In fact, eating vegetables and fruits sparingly can fight off simple illnesses like colds and coughs. This recipe will provide you not only great tasting veggies but also good nutrition in every bite.
Heat a skillet and pour olive oil. Sauté ½ onion, red and green-red bell peppers, baby bellas mushrooms, small chopped zucchini, yellow squash and sprinkle 1 tablespoon of taco seasoning on the veggies. Cook until veggies get tender. Set aside. In a bowl, prepare the sauce by mixing ½ cup crema or sour cream, ½ teaspoon chili powder and cumin, cheese and cilantro. To assemble, place the veggies in a taco shell, top with a sprinkling of cheese, cilantro, and a squirt of lemon juice and drizzle of crema mixture. Add the lettuce strip on top of it. Serve immediately and enjoy.
Tacos are a versatile food to make. Make it healthier by whipping up all-out veggies tacos. The trick to making meaty meatless tacos is to put fresh ingredients that are deep and rich in flavor as a filling and topped with equally delicious condiments. This will create tasting tacos every night of the week and will satisfy even your pickiest carnivore in the household.