November 23, 2018 · Written by Foodtolive Team
Mandarin Orange Salad with Cranberries and Walnuts
A great holiday entertaining salad — mandarin orange, cranberries, and walnuts all covered in delicious orange, lemon and dijon mustard dressing.
INGREDIENTS:
For salad:
5 oz organic mix of radicchio, green lettuce, and kale (or spinach, arugula, etc.)
2-3 mandarin oranges, peeled and segmented
1/2 cup dried cranberries
1/2 cup walnuts
For dressing:
1/2 cup oil (preferably flavorless like grapeseed or safflower)
1/4 cup fresh squeezed orange juice
1 tbsp fresh squeezed lemon juice
1 tbsp white wine vinegar
1 tsp Dijon mustard
1/4 tsp salt
1/8 tsp freshly ground black pepper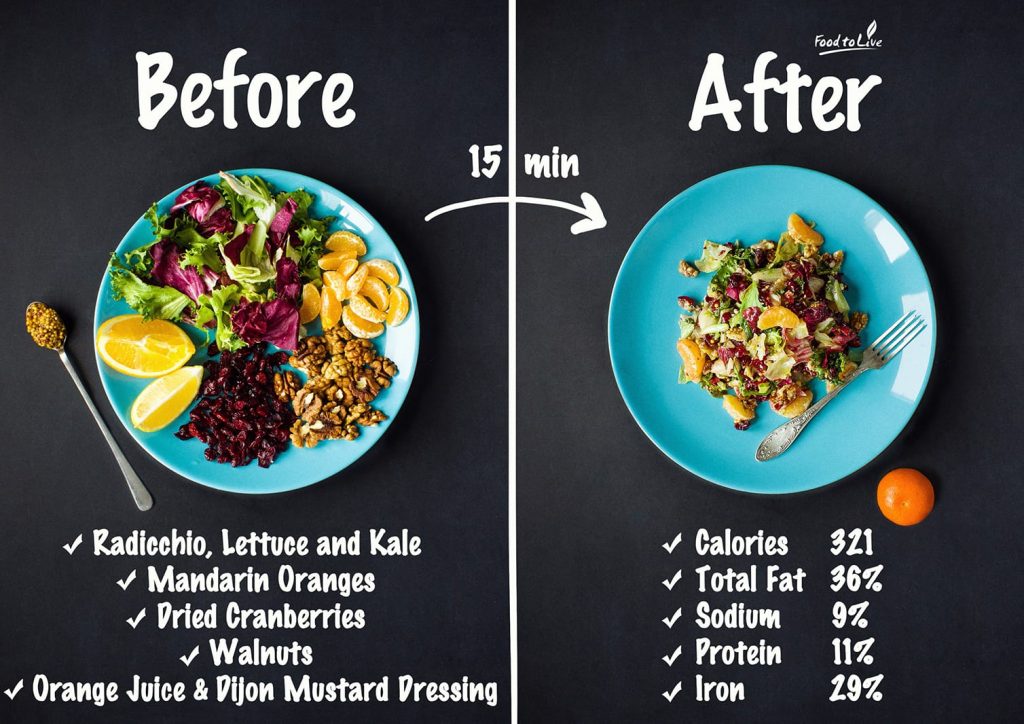 INSTRUCTIONS:
For salad:
Arrange mixed greens in a large salad bowl. Top with remaining ingredients. Drizzle with some of the vinaigrette and toss to coat. Serve immediately.
For vinaigrette:
In a medium bowl, whisk together oil, orange juice, lemon juice, vinegar, mustard, salt and pepper. Whisk very well until the vinaigrette is combined.