September 07, 2015 · Written by Foodtolive Team
How to Read a Food Label
All the necessary information about the ingredients of packaged food products is presented in food nutrition labels. They let you compare different products as for the content of nutrients and decide which suits you most. Labels may vary in the form, but all of them must include the following details: ingredients and additives, the names of the manufacturer and the country where the product was produced, the "use by" date, and warnings for people who suffer from food allergies.
What a Food Label Tells About
Servings per package and serving size with the amount of energy (usually in calories) they provide. You need this information to know how much energy and nutrients you will get with one serving of a product.
Try to avoid food products with sugar content of more than 15 g per 100 g.
Sodium (salt). Try to choose food products with the amount of salt between 120 mg to 400 mg per 100 g.
Total fat. Fats are needed for balanced nutrition, so don`t look for fat-free products unless you are on a special diet. It's advisable to choose foods with the fat content of not more than 10 g per 100 g.
If the label gives such information, choose breads and cereals with a fiber content of more than 3 g per serving.

Sponsored by Food to live

The percentage of daily value (%DV) shows the amount of each nutrient that you will consume with one serving as compared to the recommended daily amount. It allows you to calculate the quantity of different foods to cover this recommended amount and make your diet more balanced and variable.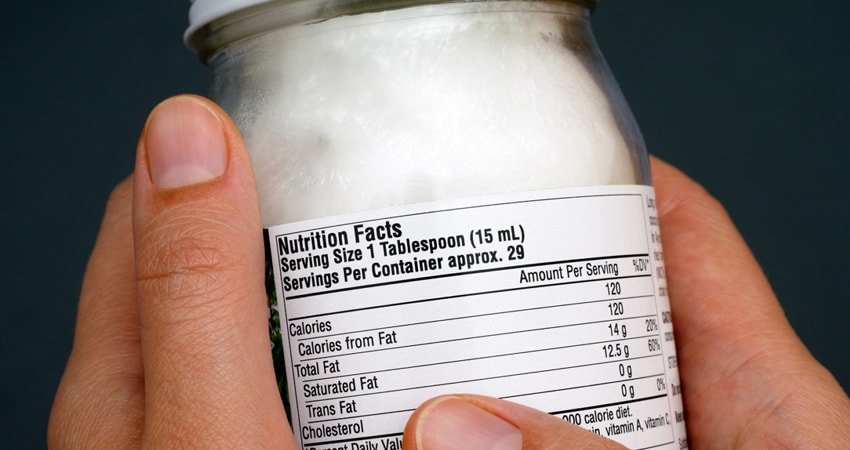 Sometimes food nutrition labels list ingredients that are used as substitutes for fats, sugars, and salt. You should know that:
Sugars can be given under the names: golden syrup, sucrose, glucose, and some others.
Salt may be mentioned as monosodium glutamate, sodium ascorbate, sea salt, etc.
For the ingredients high in saturated fat, such substitutes are milk solids, lard, butter, coconut oils, etc.
On some food labels, you can read nutrition claims, which are made by managers to catch buyers` attention: "low fat," "high fiber," and so on. Don`t rely on them and make your own sound choice by referring to the nutrition information panel.