October 04, 2017 · Written by Foodtolive Team
Healthy Eating While Traveling: How to Make It Possible
Healthy eating while traveling is possible as long as you prepare in advance and plan your trip well. Even if you don't get a chance to cook healthy food on the road, these tips will help you stick to your usual meal plan.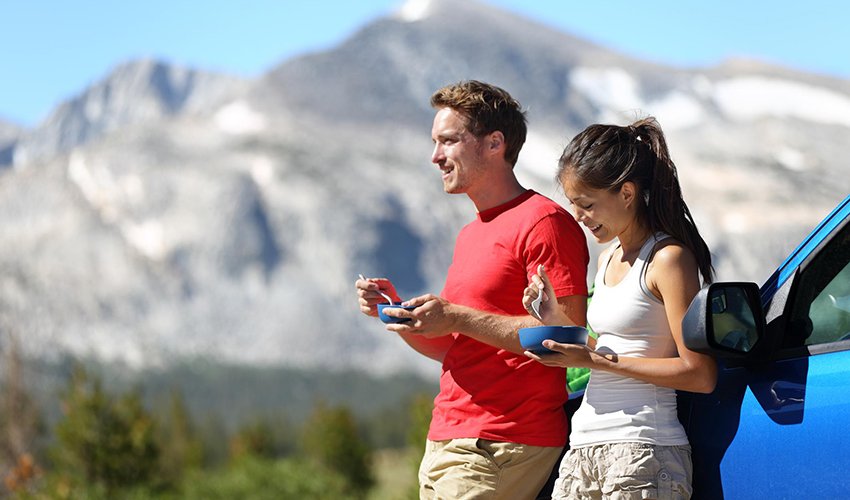 Tips on Healthy Eating While Traveling by Car
Research your route and plan the trip in such a way that will allow you to stop for food in healthy cafes and restaurants.
Make some of healthy snacks and pack only them. Do not pick up any junk food at gas station shops.
In case you have no choice but to stop for food in the middle of nowhere, choose fresh fruits and veggies from grocery stores over greasy burgers and fries.
Use basic meal prep ideas to make time for cooking healthy food to take with you.
All in all, a roadtrip is a great adventure. However, your stomach won't appreciate it if you don't prepare for it right. Think of these challenges when planning your trip:
Driving long hours makes it hard to stick to your regular meal schedule.
People tend to eat a great number of unhealthy snacks when behind the wheel.
Even if you choose to stop for a proper meal, the quality of food in roadside diners is usually lacking.
Quite often people don't have time prepare healthy food for the trip in advance.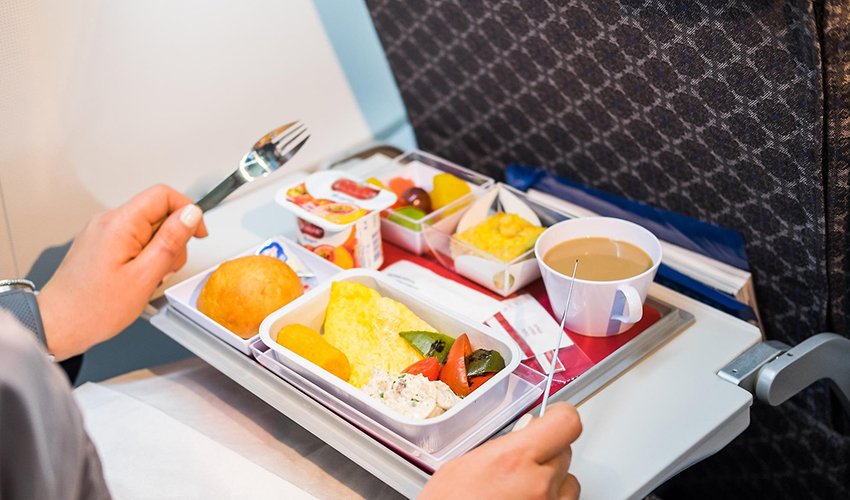 Tips on Healthy Eating While Traveling by Air
If the option of pre-ordering a healthy meal from the airline isn't available, prepare your own food.
Do your best to stick to your regular meal schedule during the journey. Limit the amount of snacks on the flight.
Take any necessary supplements or sleeping aids recommended by your doctor to get over jet lag faster.
Research restaurants serving healthy food in the vicinity of the airport and avoid fast food.
Take anti-nausea and other necessary stomach medications with you. This will allow you to get help immediately if you feel bad during the flight.
Research the airline's requirements towards food allowed on the planes. Look through online forums to get more info from travelers.
Why You Need Tips for Healthy Eating While Traveling by Air
Airline meals are getting better, but the majority of options on offer are rather unhealthy, especially on budget planes. Food in the airports and surrounding cafes is unhealthy and very expensive to boot.
In addition, packing your own healthy lunch is a challenge because airlines are rather demanding in their limitations. You must comply with the rules regarding foods and drinks one can take on a plane. And don't forget that traveling across different time zones messes with your eating schedule.
Transportation Security Administration Requirements: Food & Drinks
According to the general guidelines, food and drinks you can take on a plane include:
Liquids and gel-like substances in containers of up to 3.4 ounces.
This includes alcohol as well as sauces, jams, soups, cream cheese, and salad dressings.
Fresh fruits, berries, and vegetables.
Hard cheese.
Smoked and dried meats.
Frozen foods (in a cooler with fully-frozen ice packs).
Hummus.
Nuts and dried fruits.
Pet food (wet must be under 3.4 oz. per container).
Honey and sweet syrups.
Pet food (wet must be under 3.4 oz. per container).
Pizza.
Cakes and pies.
Protein bars, granola, and trail mixes.
Crackers and chips.
Sandwiches.
Yogurt.
Please note that many airlines have their own special regulations regarding food on the plane. The airline's officer that checks your luggage is the one making the decisions. The general 'rule of thumb' these professionals follow is banning 'messy' foods. This includes foods with a strong aroma and products that crumble easily.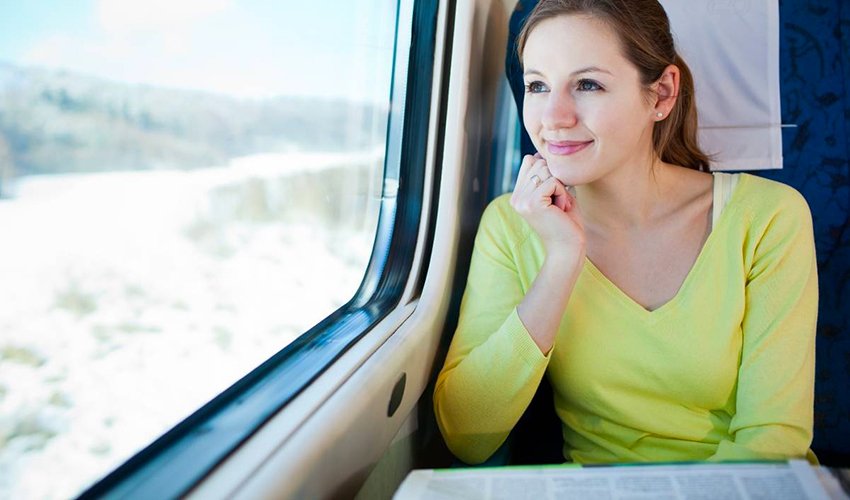 Tips on Healthy Eating While Traveling by Train
Plan your homemade meals to ensure that you'll be comfortable eating them on the train. Consider the length of your journey in regards to perishable dishes you want to take. If you take food in a cooler, think about what you are going to do when icepacks melt.
In case you switch trains along the way, plan your schedule to allow for a healthy meal. Research restaurants in the vicinity and don't forget to take meal times into account when making an itinerary.
Do not take any unhealthy junk food and processed snacks with you to remove temptation.
Sponsored by Food to live
Reasons Why Healthy Eating While Traveling by Train Is a Challenge
The challenges of healthy eating while on a train are similar to those of cars and buses:
You are usually going through places where healthy meals are hard to come by.
The amount and variety of foods you can take with you are limited.
Restaurant train carts might not serve what you deem 'healthy' food. At the very least, your choices would be limited there.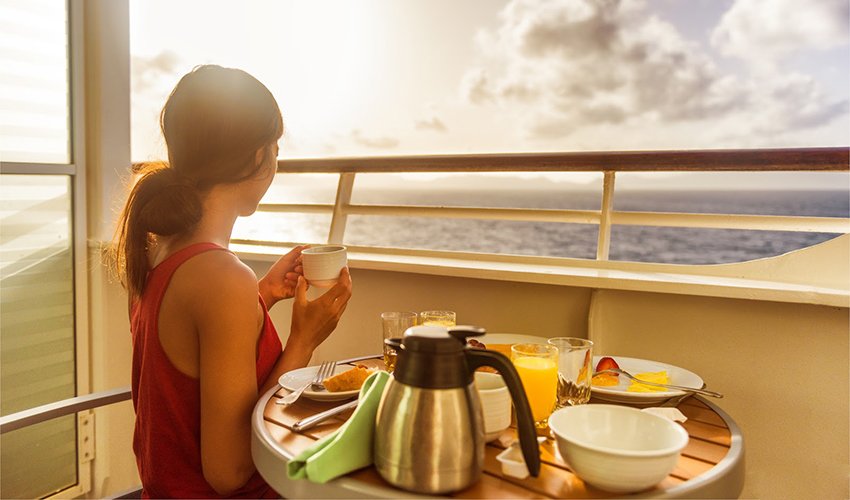 Is Healthy Eating While Traveling on a Cruise Ship Possible?
It's possible to eat healthy on a ship if you book a cruise with a company that provides such meals. However, this would be a serious problem for people with severe dietary restrictions. Making your own food isn't an option in such trips and eating out during stops is another problem.
As cruises usually stop in port towns famous for exotic (and often unhealthy) local delicacies, the temptation to stuff on these foods is extremely high. Therefore, healthy eating while traveling on a cruise liner is as much an exercise in self-restraint as in planning.
Tips on Healthy Eating While Traveling on a Cruise Ship
Take a look at the menu provided by the liner before your trip and negotiate any dietary requirements in advance.
Look up testimonials from other travelers to find out how good and healthy the food really is. Try to contact them online, if possible, to get personal confirmations.
To prevent overeating exotic dishes during stops, research all your destinations. Make a plan of which local delicacies you want and can try without breaking your healthy diet.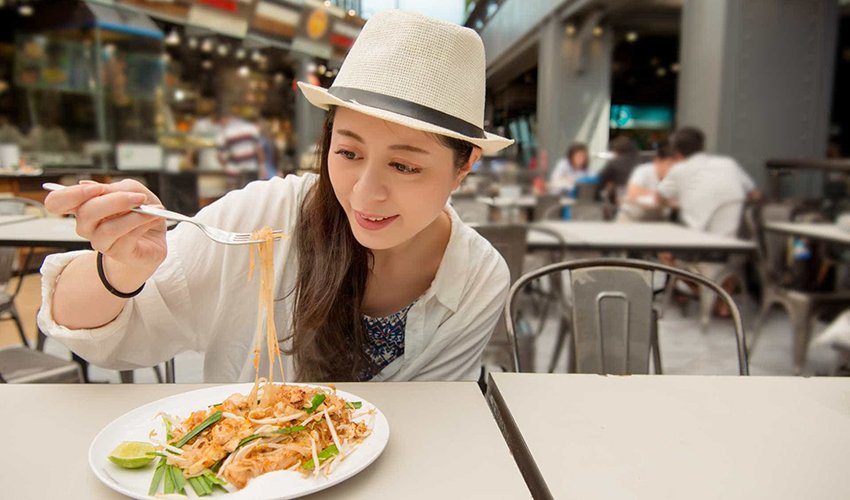 Tips on Healthy Eating While Traveling Abroad
Research the country's cuisine in advance and make a list of dishes to try.
Find out which ingredients will be completely new for you and try them at home. Today you can easily order almost any kind of food online, so this should be easy. If you are prone to food allergies, make sure your doctor monitors your condition.
Research restaurants and cafes in the places you plan to visit and mark their locations in your phone. If necessary (and possible), try to contact them and find out if they make alterations to their regular meals on request.
Plan your food budget carefully as a motivation to prevent overeating.
Book a room with a kitchenette to cut down your expenses and cook healthy meals on your own. Be sure to research nearby grocery stores in this case.
If possible, bring some of your own ingredients so you can make meals you are familiar with.
Exercise willpower to stop yourself from exotic food experiments. Remember that eating healthy while traveling helps you enjoy the journey more as you are safe from digestive problems.
Get all mandatory shots before the trip and take the necessary precautions when buying food abroad. Specialized travelers' websites usually offer guides for different countries. There you can find information on food and drink considerations and risks.
Never go abroad without a medical insurance that will cover you in case of any digestive disorders. Research which of the local hospitals will accept this insurance.
It's better to be safe than sorry.
Why Is It Hard to Ensure Healthy Eating While Traveling Abroad?
The biggest problem with eating healthy abroad is that local foods might be a shock for your stomach. This issue is particularly prevalent when you are visiting exotic countries, where dishes contain lots of spices. Eating such foods might cause indigestion, even if the meal falls into the 'healthy' category.
You will also run a risk of developing new food allergies if you have a sensitive stomach. At the same time, avoiding all new foods will limit your nutrition intake. Overeating is another common issue for traveling abroad as there are so many new and exciting foods tempting you.
In the majority of cases, your inability to keep up with healthy eating habits while abroad stems from the fact that you simply don't know where to get them. In some situations, this ignorance is dangerous as you might buy low-quality foods that will make you sick.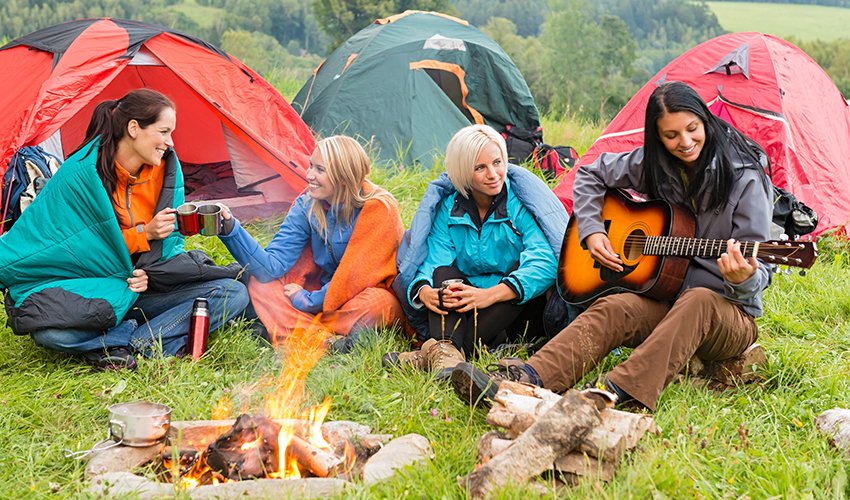 Tips on Healthy Eating While Camping
Use the rules for eating healthy while traveling in a car when packing food for your camping trip. Make sure to limit perishables. You can also use these delicious vegan camp food ideas for inspiration.
Never forage if you aren't absolutely sure that the herbs, fruits, mushrooms, or berries you pick up are edible. Wash them thoroughly with cleansed water. Also, be sure to carry a pack of water purifying pills on you at all times for emergencies.
Get some practice in making healthy camp meals at home, so you are sure you can feed yourself properly in the wild.
If you plan for a long camping trip, design your route in a way that will give you access to shops with healthy foods.
Eating Healthy on a Camping Trip: Main Limitations
Depending on the type of camping or hiking expedition you choose, the amount of food you are able to bring might be extremely limited.
You don't get a lot of variety as you'd usually have to stick to non-perishables only.
There is no arguing that camping trips are great for your health, but they might not be good for diet. However, you can take comfort from the fact that grilling foods over a campfire is one of the healthiest cooking methods. Think about this even when cooking at home.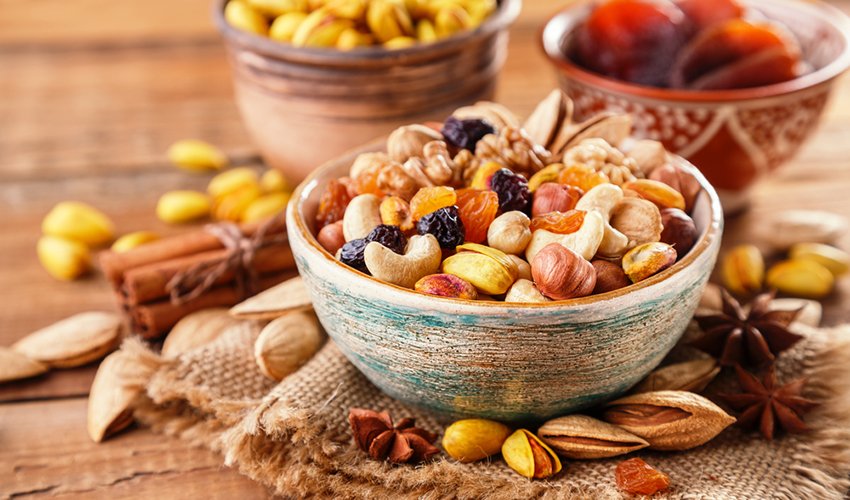 Eat Healthy While Traveling: Final Thoughts
It's hard to eat healthy while on the road as many external factors prevent you from doing so. The key to avoiding problems and maintaining your diet is planning. Don't be too lazy to do a thorough research as this might literally save you from a hospital.
Always try to make some healthy food to take with you. At the very least, make a trail mix consisting of nuts, dried fruits, pepitas, and sunflower seeds.