August 29, 2016 · Written by Foodtolive Team
Incredible Health and Nutritional Benefits of Figs
Figs are truly amazing fruits. Hundreds of years ago, they were a favored treat of the royalty from the Middle East. Today you can buy dried fruits anytime you like, and fresh California figs are available during summer. Nutritional benefits of figs are the reason why everyone should include them in their diet. Whether you are trying to lose weight, strengthen your immunity, or just enjoy a delicious and healthy meal plan, you should add this fruit to your menu.
One of the best things about figs is that despite the large amount of essential minerals and vitamins they give you, they are extremely low in calories. Half a cup of fresh fruits contains only about 74 calories and less than a gram of fat. Considering the fact that they are deliciously sweet, people on a weight loss diet would enjoy them greatly, because the fruit makes a tasty dessert.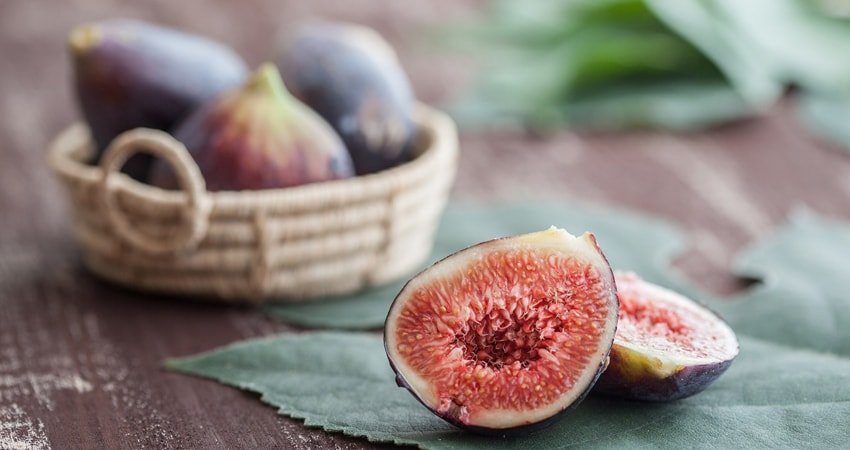 Five Main Reasons to Appreciate Nutritional Benefits of Figs
There are many reasons to love figs, both dried and fresh. Like with any healthy food, eating them brings you more than pleasure to your taste buds. This also makes your body stronger in a variety of ways, including:
Dietary fiberin figs promotes intestinal and digestive health.
One of the biggest nutritional advantages of this fruit is its extremely high level of soluble fiber. A diet rich in this particular element ensures regular bowel movement, improves digestive health, helps lose weight more efficiently. In addition to assisting with digestion, figs also allow you to feel full longer and help fight hunger cravings. As their calorie-count is so low, they make great snacks for weight loss plans.
Potassium from these fruits helps control blood pressure.
Diets high in sodium (salt) increase the risk of hypertension as well as increase the severity of this condition once it develops. Any meal plan that contains processed foods has too much sodium, and the abundance of this mineral causes you to lose potassium. This causes a nutritional imbalance that results in high blood pressure and other health issues. Nutritional benefits of figs include a high level of potassium, so the fruit helps lower your blood pressure naturally and keep it at a normal level.
Another important quality of this mineral is its ability to reduce the level calcium loss through the urine. Calcium is a notoriously difficult element to absorb, and sodium literally flushes it out of your body. Increasing your intake of potassium helps keep this element in your bones. 

Sponsored by Food to live

Figs give you B vitamins, necessary for maintaining overall health.
B vitamins play a vital role in the formation of various enzymes that affect numerous processes in the body. You need to consume them regularly in order to keep all your systems functioning properly, because developing one deficiency will affect your health as a whole.
This fruit contains calcium.
Vegans often have difficulties with meeting their daily requirement of calcium, because this mineral is difficult to absorb. Nutritional benefits of figs include a relatively high calcium content for a fruit. The important thing about this particular source of the precious bone-strengthening element is that the calcium you get from figs has a high absorption rate. Combined with potassium, which helps you retain this mineral, figs make a valuable nutrition source for those following plant-based diets.
Prebiotics from figs help maintain digestive health.
These 'good' bacteria support the healthy flora of the intestines, reducing the risk of digestive disorders. The positive influence of figs on your gastrointestinal tract is enhanced with soluble fiber that keeps your intestines toned and prevents constipation.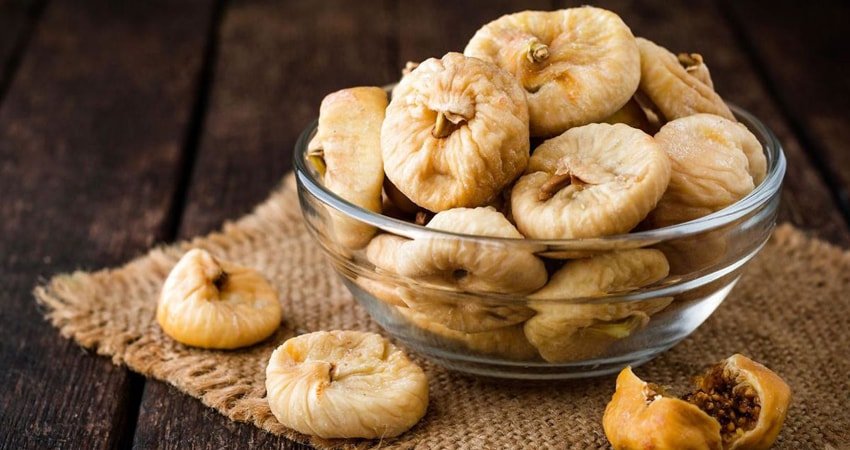 Easy Dried Fig Recipes
Dried fruits make great healthy snacks, and figs are no exception to that rule. However, there are many other ways to enjoy this delicious sweet treat.
We'll share some of our favorite recipes: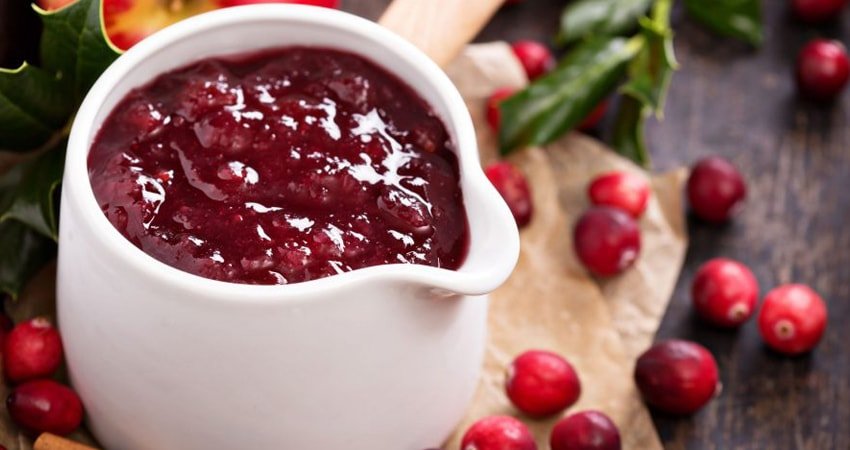 Cranberry Sauce with Dried Figs
This recipe allows you to not only enjoy the nutritional benefits of figs and cranberries, but also create a sauce that will enhance the flavor of many dishes.
Ingredients: 
12 ounces cranberries (fresh or frozen)
5 ounces dried figs
¼ cup dry red wine
½ cup sugar
Instructions:
 Combine all ingredients in a small saucepan and cook over low heat until cranberries burst. Usually, this takes about 15 minutes.
Cool at room temperature before refrigerating for up to 3 days.
Before use, let the sauce stand at room temperature for no less than 30 minutes.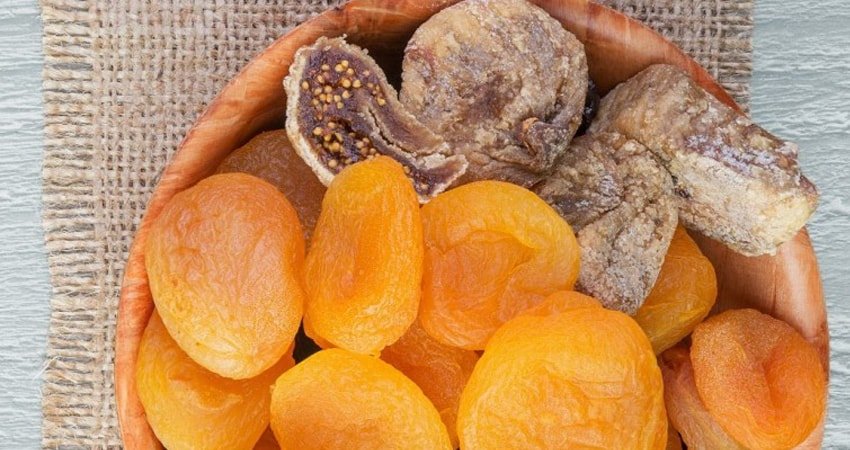 Slump with Dried Figs, Cherries, and Apricots
Both kids and adults will love these delicious sweet biscuits. This healthy dessert is a great way to treat yourself after a long week of work.
Ingredients:
Filling: 
1 ½ cups water
2 cups fruity white wine
1 cup dried apricot halves (cut in half)
1 cup dried figs (quartered)
½ cup dried tart cherries
¼ cup crystallized ginger (rendered to matchstick size strips)
2 tablespoons lemon juice (fresh)
¼ cup sugar
½ vanilla bean (split)
Biscuits:
4 tablespoons sugar
1 ½ cups flour
½ teaspoon fine sea salt
¾ teaspoon baking soda
6 tablespoons chilled unsalted butter
Chilled heavy whipping cream
1/8 teaspoon ground cinnamon
2/3 cup chilled buttermilk
Instructions:
Filling:
Combine all ingredients in a broiler-proof skillet. Scrape the seeds from the vanilla bean before adding it into the mix.
Bring to a boil and let simmer for about 2 minutes.
Let stand at room temperature.
Biscuits:
Whisk together flour, salt, and 2 tablespoons of sugar.
Add butter and rub it in with your hands. Continue until you form a coarse meal.
Add buttermilk and stir. Note that the dough must be slightly moist.
Mix the remaining sugar and cinnamon is a separate bowl.
Together:
Put the dried fruit mixture back onto the stove and bring to a simmer.
Scoop the dough and place the scoop evenly atop the mix.
Sprinkle dough scoops with cinnamon and sugar.
Cover the skillet and let simmer at medium-to-low heat until the biscuits are cooked. This should take about 12 minutes.
Remove from heat and let stand uncovered for 15 more minutes.
Broil the slump for 1-2 minutes, until the biscuits turn golden.
Serve with chilled cream.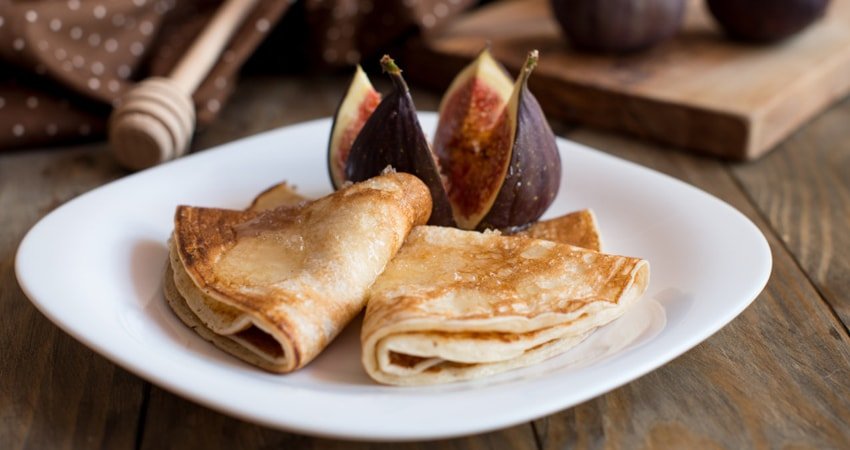 Walnut Crepes with Dried Figs and Raspberries
This is another delicious dish that will allow you to truly enjoy nutritional benefits of figs as well as walnuts. Crepes can be embellished with almost anything, so you can experiment with this recipe adding your favorite foods.
Ingredients:
Filling:
12 ounces frozen raspberries (sweetened)
1 ½ cups dried figs
½ vanilla bean (split)
1 cup Muscat wine
1 cup water
2 tablespoons honey
¼ cup dark brown sugar
2 teaspoons orange peel
Crepes: 
3 large eggs
¼ cup walnuts (chopped)
1 cup flour
2 tablespoons sugar
1 cup milk (whole)
2 tablespoons unsalted butter
¼ teaspoon salt
1 teaspoon orange peel (grated)
8 ounces (1 container) crème fraiche
2 tablespoons honey
If crème fraiche is unavailable, you can make a replacement by heating up a cup of whipping cream and mixing it with 2 tablespoons of buttermilk. Cover the mix and let stand 24-48 hours in a warm daft-free place. Chill and use.
Instructions:
Filling:
Mix all ingredients together in a large saucepan. Take care to scrape the seeds from vanilla bean first.
Bring the mix to a simmer and stir until sugar dissolves.
Simmer over medium heat for 30 minutes.
Let cool and chill. Filling can be prepared up to 3 days in advance.
Crepes:
Mix milk, flour, eggs, walnuts, sugar, butter (melted), orange peel, and salt in a blender. Process until smooth.
Chill the batter in the blender container for 2 hours.
Blend again for 15 seconds.
Note that baller needs to have the consistency of heavy cream. If necessary, thin it out with more milk.
Heat up a non-stick skillet over medium-high heat.
Pour ¼ cup of crepe batter onto the skillet and cook on both sides. Turn carefully with a spatula. Stack cooked crepes on a plate.
Together:
Oil a baking dish.
Place a spoonful of filling onto a crepe and spread within 1inch of the edges. Fold in half twice and place the crepe onto the pan. Continue until you fill the dish.
Brush folded crepes with a bit of melted butter and sprinkle with sugar.
Cover the dish with foil and bake at 350F for 20 minutes.
Serve with chilled crème fraiche mixed with honey.