June 27, 2022 · Written by Foodtolive Team
Coconut Golden Lentil Curry
This wholesome yellow lentil curry with fresh spices, garlic, and ginger simmered in creamy coconut sauce will become your favorite if you give it a try! Enjoy this lentil curry on its own for a hearty warming meal, or served over your favorite grains for a quick and healthy midweek meal.
Prep Time: 5 min | Cook Time: 15 min | Total Time: 20 min | Servings: 4
Calories: 235 | Total Fat: 5.9g | Fiber: 13.6g | Sugar: 3.1g | Protein: 12.6g
INGREDIENTS: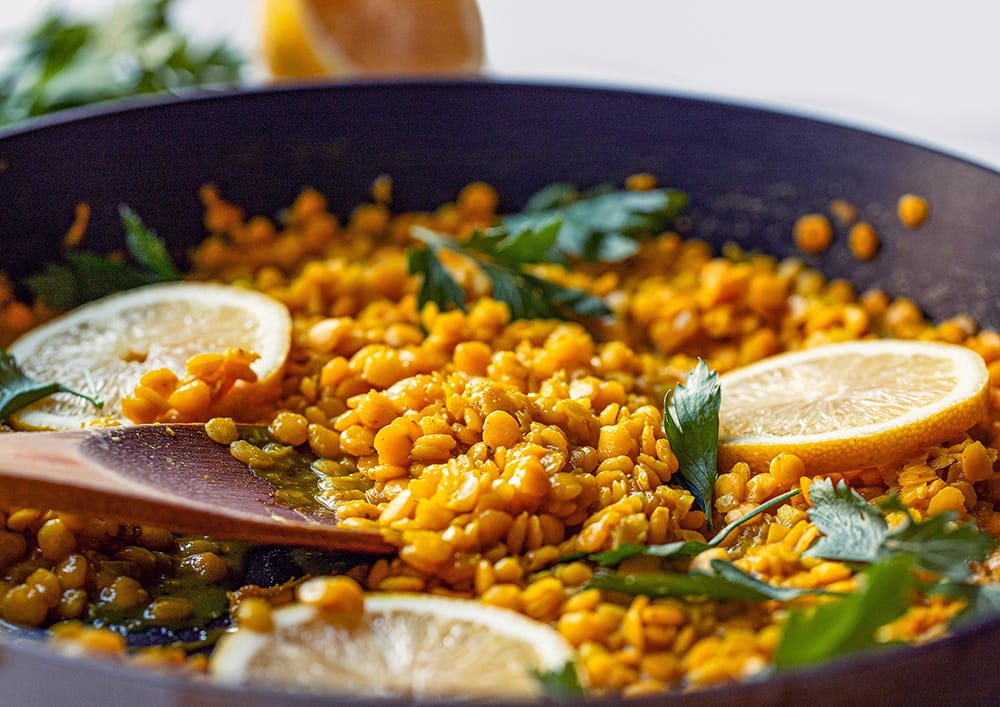 INSTRUCTIONS:
Bring water to a boil in a medium saucepan.
Add lentils and bring back to a boil.
Once boiling, reduce heat to a simmer and cook lentils uncovered for 4-5 minutes. Then drain and set aside. Be careful not to overcook or they can become mushy.
In the meantime, heat a large skillet over medium heat.
Once hot, add coconut oil, onion, garlic, and ginger. Sauté for 2-3 minutes, stirring frequently.
Then add salt, curry powder, turmeric powder, cumin powder, and cayenne (optional) and cook for 1 minute more. Lower heat to low.
Add coconut milk and coconut sugar and stir to combine.
Add the drained cooked lentils to the coconut sauce and stir. Cook over low heat for 3-4 minutes.
Turn off the heat, add lemon juice, and stir. Serve and enjoy!