November 10, 2018 · Written by Foodtolive Team
Chickpea Salad Sandwich
This tasty Chickpea Salad Sandwich is a plant-based powerhouse of a lunch! Make it in advance for a party or picnic or to take along as an easy weekday lunch for work or school.
Prep Time 5 minutes | Cook Time 10 minutes | Total Time 15 minutes | 4 servings
INGREDIENTS:
For the salad:
15 oz canned chickpeas, drained and rinsed
3 stalks green onion
1/2 cup chopped shredded carrots
1 finely chopped red bell pepper
1/2 cup store-bought or homemade vegan mayo
1 tsp yellow mustard
1/4 tsp salt
1/4 tsp pepper
3 tbsp unsalted roasted sunflower seeds
For the sandwich:
sandwich bread
arugula or romaine lettuce
optional tomatoes and/or red onion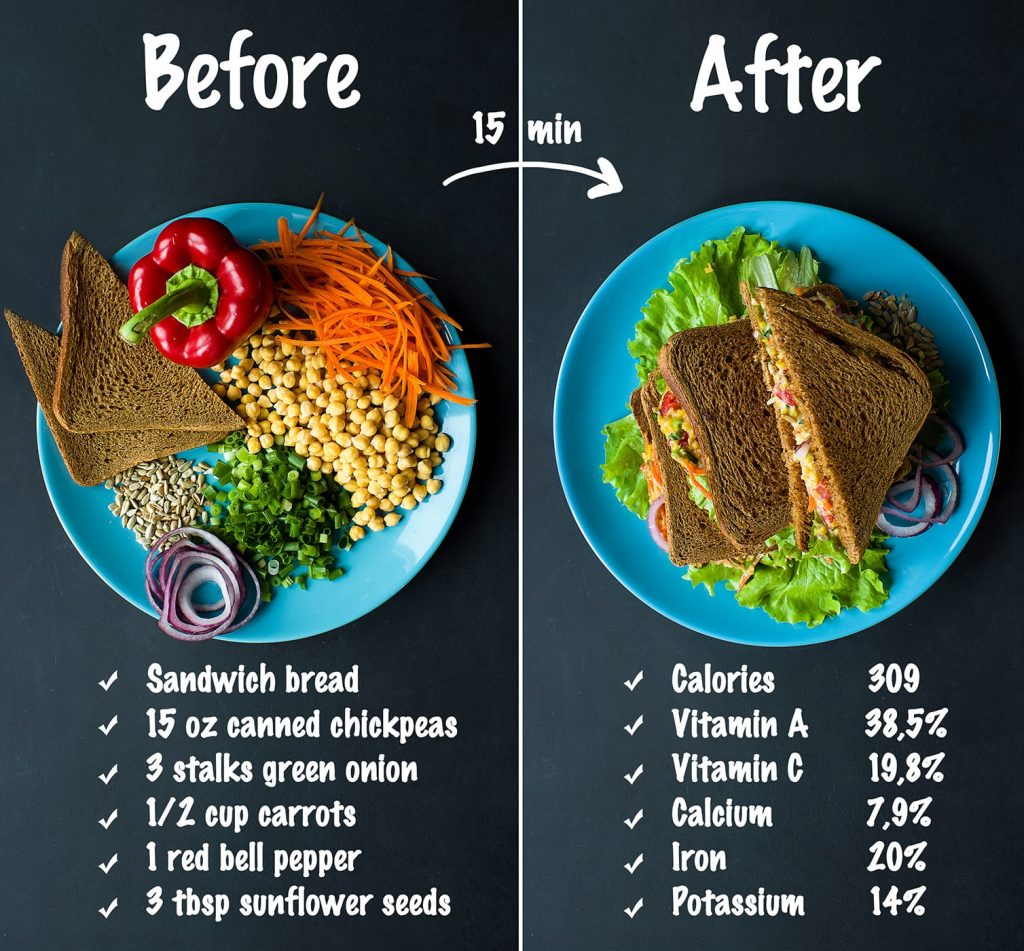 INSTRUCTIONS:
Drain and rinse your chickpeas and add them to a large bowl. Mash with a potato masher. You could also use a food processor.
Chop your green onion, carrots, bell pepper.
Add to the bowl with your chickpeas, then add mayo, yellow mustard, salt, and pepper. Stir well to coat.
Fold in sunflower seeds.
Pile high on bread with all your sandwich fixings or enjoy as a wrap, with crackers, on a salad, or simply dive into the bowl spoon-first – anything goes!
Recipe Notes
Pack a sandwich or salad for lunch/school or make it ahead to serve at a party or picnic. The salad will be great for approx. 4 days in the refrigerator to make it for now, or for later!