October 17, 2018 · Written by Foodtolive Team
Chickpea Flour Mini Vegan Frittata
Сolor your world with these vibrant vegetables made as a mini frittata. It is packed with all the chickpea benefits of high fiber and protein to supercharged your breakfast or your mid-afternoon snacks. Enjoy this egg-free chickpea flour mini vegan frittata not only for its satisfying taste but also for its healthy goodness.
Prep Time 10 minutes | Cook Time 30 minutes | Total Time 40 minutes | Serving: 12 mini frittatas
INGREDIENTS:
2 bell peppers, chopped
1 cup broccoli, chopped
1 cup corn
1/2 cup spinach, thinly sliced
1/2 cup green onion, thinly sliced
2 cups chickpea flour
2 tablespoons extra virgin olive oil
1/4 cup nutritional yeast
1 teaspoon baking powder
1 teaspoon sea salt
1/2 teaspoon black pepper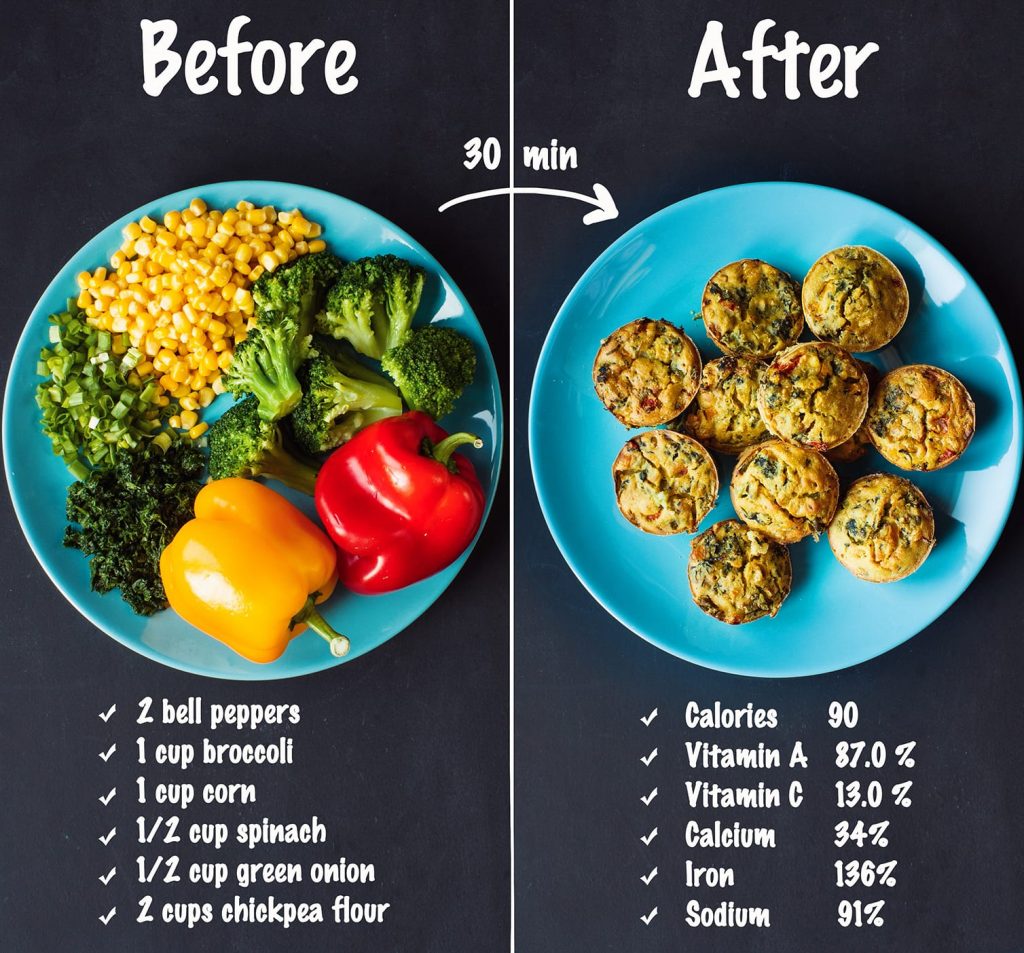 INSTRUCTIONS:
Preheat oven to 400 F. Heat olive oil over medium-high heat in a skillet. Add all veggies to skillet (except for green onions) and cook until veggies cook down and begin to brown, about 5 minutes. Add green onions to skillet and cook 2 minutes more. Season with salt and pepper to taste and remove from heat.
Combine chickpea flour, nutritional yeast, baking powder, salt, and pepper in a bowl with 2 1/2 cups water.
Divide veggie mixture between muffin cups. Divide any remaining veggies between cups. Fill cups with chickpea batter. Use a spoon to gently stir each cup to ensure the batter gets under the veggies.
Bake for 20 minutes, until a toothpick inserted in center, comes out clean and frittatas are beginning to brown on top. Remove from oven and allow to cool for 10 minutes (this allows the batter to set) before removing from tin and cooling on a rack. Depending on your muffin tin, you may have to use a knife or offset spatula to gently loosen sides of frittatas before removing from tin.
Serve warm or allow to cool completely before storing in the refrigerator for up to 5 days. Frittatas can be reheated in the microwave but are best when warmed in the oven or toaster oven at 400 F for 10 minutes.