February 06, 2019 · Written by Foodtolive Team
Best Valentine's Day Breakfast Ideas
There's something special every Valentine's day. It's that one moment of every year where you can be all out romantic and cheesy as you want to be and there would be no one to stop you. In fact, all of your lovely expressions are also much anticipated and expected by your loved ones on this day so making it extra special is one thing they can appreciate all throughout the day.
A better way to start expressing your love is in the morning when all are refresh and relax. Whipped up a good breakfast before sending off your precious darlings to office and school. It will keep them up and going knowing that you have them in your heart all day.
Getting up in the morning adds up pleasure in preparing cute and filling breakfast for your family. Here are some yummy Valentine's day breakfast ideas that are so simple and easy to prepare that would make the most important meal of the day extraordinary. Read on and try it out.
Raspberry overnight oats
chia seeds, ½ cup frozen raspberry, 3 teaspoons of maple syrup and ½ cup coconut milk. Put the mixture in pint mason jar and gently stir until mix together and oats are covered with liquids. Refrigerate overnight. In the morning, you can stir in extra coconut milk to loosen the mixture and topped it with extra raspberry and nuts of your choice. This will boost your sweetheart's energy level to fuel the day.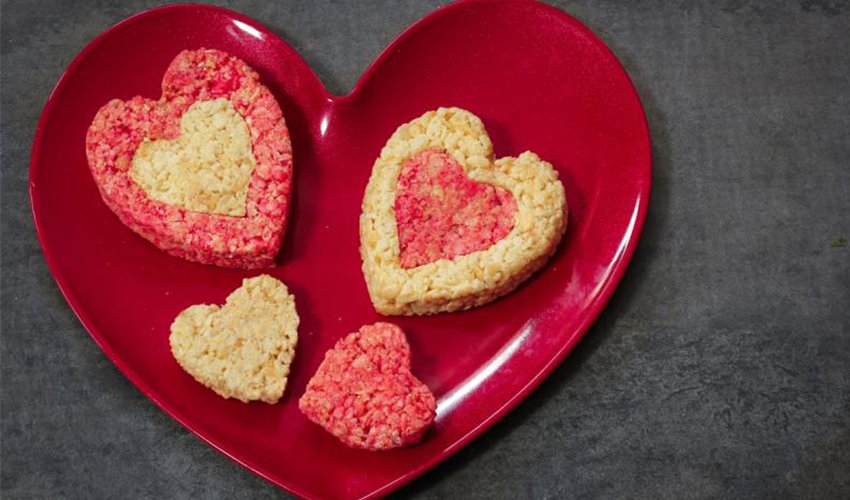 No bake cereals
These are perfect for your little sweeties. You can make batches of it with different colors using food coloring to create a heart shaded rainbows. Just simply melt 3 tablespoons of butter in a saucepan and add one package of white marshmallows then stir in a couple of drops of food coloring depending on how bright you want the colors to come out. Remove from heat then fold in 6 cups of rice crispy making sure that it is well covered with the marshmallow mixture. Press it on in a rectangular baking pan coated with cooking spray. Cut it into a heart shape using a cookie cutter. With gel or frosting in a piping bag, decorate the top with sweet cutesy notes like "luv u" or "kiss me". It will surely captivate the hearts of your darlings.
Sponsored by Food to live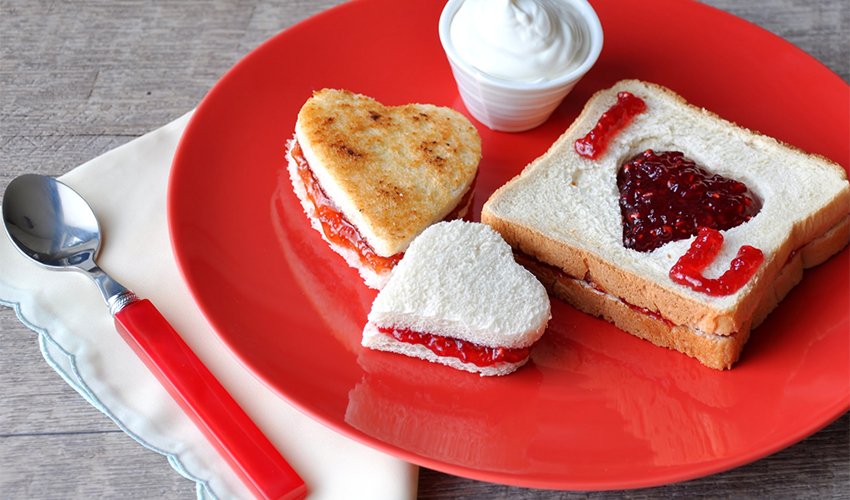 Heart shaped French toast
Anything French they say is romantic. Well, you can make your French toast even more romantic by carving each into hearts using a heart-shaped cookie cutter. Prepare your bread by slicing it a night before to let it dry a bit overnight so that it won't absorb too much eggs and getting soggy. When your bread is ready, dip it in egg mixture and fry. What's good about French toast is you can top it with just about anything. For extra sweetness, you can add some cinnamon, powdered sugar and fruits on top or you may want to drizzle some chocolate or strawberry sauce on it. For savory taste, top it with cheese or bacon bits. However you want your French toast to be extra delicious, the word je t'aime will never be far.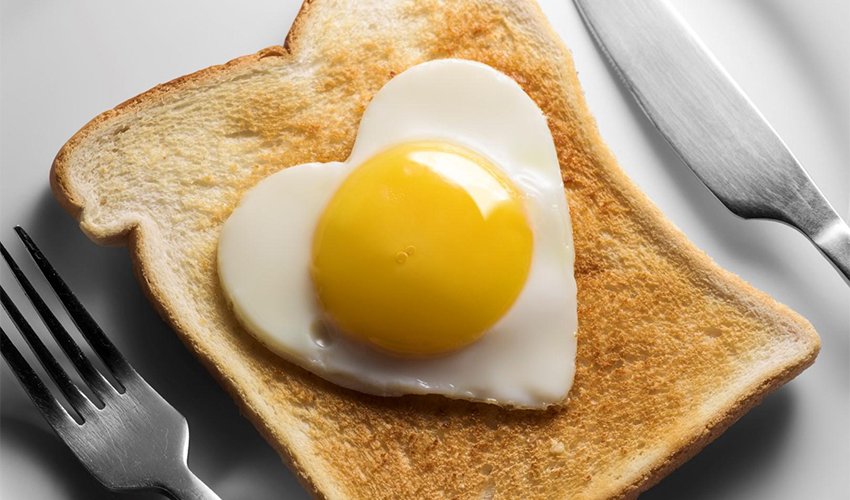 Hearty eggs
This is a simple idea for Valentine's breakfast. Eggs are a morning delight for breakfast because it is so easy to make you can fry it, poached it or baked it. In just minutes, you'll have a scrumptious breakfast with this one ingredient. So why not give these eggs a little makeover to make perfect breakfast for Valentine. Preheat oven to 350-degree F oven. Spray heart-shaped muffin tins with non-stick baking spray and crack open an egg on each tin. Bake it for around 15-20 minutes. Let it cool and remove from muffin tins. Place cooked eggs on top of bread. If you want, you can grate some cheese on it or drizzle some ketchup. You can have it also on gluten-free bread. It is packed with protein and yet an economical treat to make on Valentine's day. Its simplicity will surely make every heart to smile.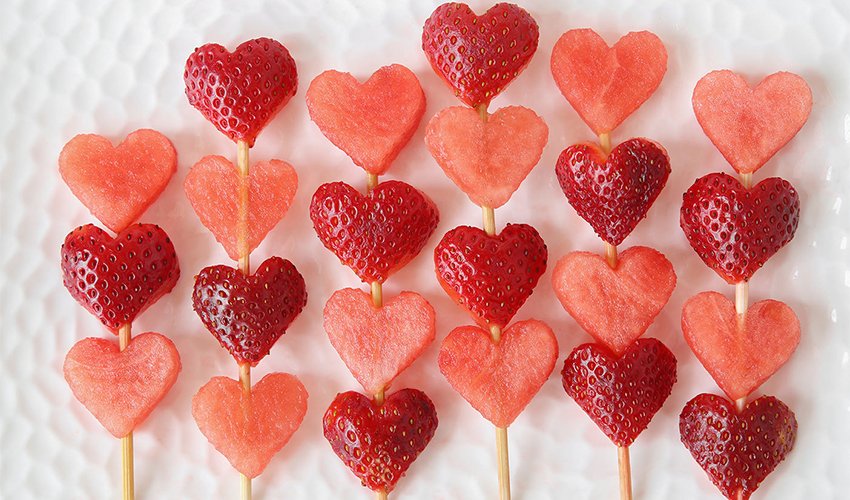 Heart shaped fruit kebobs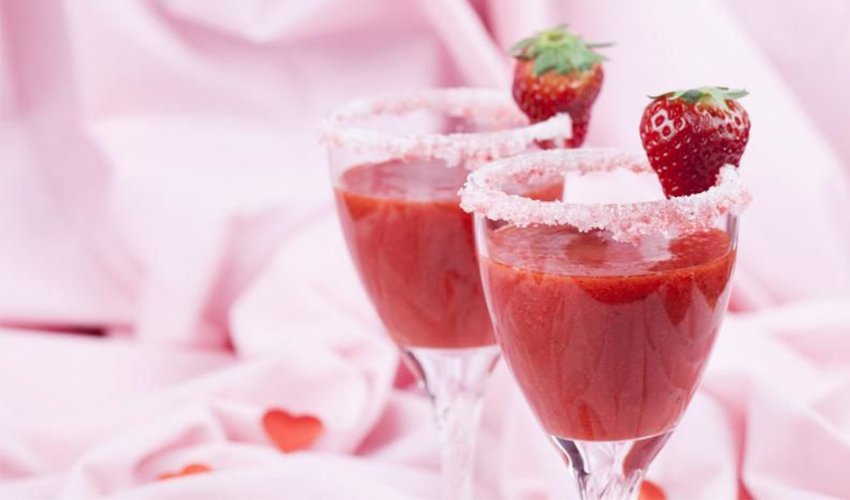 Valentine's fruity smoothie
Smoothies in the morning can keep you fuller in a day because of natural fibers in fruits that can keep all your cravings at bay. The pinkish red color in this smoothie will set the mood for a great heart's day. It has also an exciting flavor of peanut butter that will give an additional protein to energize the day. All you need is to blend together 2 cups frozen strawberries, 1 cup watermelon, 2 tbsp peanut butter and ½ cup milk of your choice (almond, soy or coconut) until smooth and creamy. Pour into serving glasses. You can have a heart-shaped watermelon attached to the glasses or just simply put it on a wooden stick on top of the glasses.
There you have it our best Valentine's breakfast ideas that are so simple and easy to prepare that will jumpstart a lovely day as you celebrate Valentine's day with your family and loved ones over breakfast.