October 06, 2015 · Written by Foodtolive Team
Benefits of Eating Dried Fruits and Nuts During Pregnancy
Being pregnant means happiness for every woman. At the same time, this state is a challenge for your health. You must think about the unborn child's health, therefore a healthy diet during pregnancy becomes your main concern. Your dietary choices are very important, and it's preferable that they cover a great variety of foods. Foods for a pregnant woman should contain the necessary nutrients such as minerals, vitamins, proteins, and fiber in sufficient quantities to satisfy you and your developing child's needs. Fortunately, there are two kinds of foods that completely meet these requirements – dried fruits and nuts.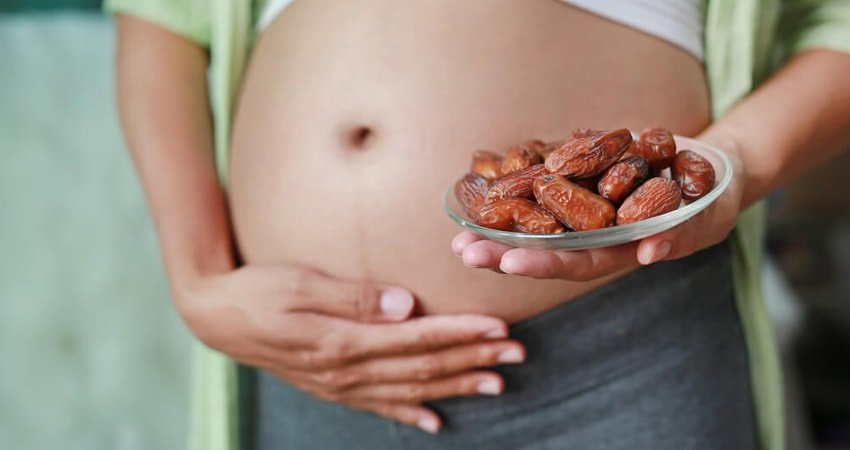 Health Benefits of Dried Fruits and Nuts for Pregnant Women
Certainly, raw fruits and vegetables are a very important part of your diet. However, dried fruits beat them in density of nutrients achieved by desiccation. One of the benefits of dried fruits is that you can consume them in lesser quantities than the raw ones while getting the same result. They provide you and your unborn baby with energy and all the necessary nutrients and help relieve some unpleasant symptoms of pregnancy – like nausea, heartburn, and high blood pressure. Nuts are essential sources of soluble and insoluble fiber, as well as vitamins and minerals. The combination of dried fruits and nuts in your diet allows you to satisfy all your needs in important nutrients, namely:
Fiber.
This is the best protection against constipation and hemorrhoids, the complications that are rather characteristic of pregnancy. Fiber also helps prevent accelerated weight gain and regulates blood pressure. Nuts with brown coats are especially rich in this nutrient. These are almonds, hazelnuts, brazil nuts, and walnuts. Dried dates, apples, apricots, and raisins should also become an inseparable part of a pregnant women diet, as well as desiccated coconuts, every ounce of which contains 4.1mg of this nutrient, or 16% of the required daily amount.
Protein.
This is the building material for every human being, which is absolutely necessary for your future baby to gain weight and develop properly. Dried fruits and nuts, especially almonds, walnuts, pistachios, coconuts, and dates are rich sources of protein. Therefore, their consumption will be beneficial during pregnancy.
Iron.
This is one of the most important minerals to include in the diet of a pregnant woman, who needs about 27mg of it daily. Iron helps your body produce more blood and consequently hemoglobin, which provides the fetus with oxygen. Dried dates, raisins, coconuts, apples, walnuts, and especially goji berries are rich sources of iron.

Sponsored by Food to live

Copper.
This mineral is found in considerable quantities in nuts such as cashews, pine nuts, pistachios, and walnuts. Dried fruits, such as desiccated coconut (0.21mg of copper per 1 oz, or 25% of the daily required amount), apricots, and dates (0.11mg per 1 oz, or 13% of recommended daily amount) should also be added to the list of healthy foods for pregnant women because of their high content of copper. This element promotes better absorption of iron and is responsible for the development of the brain.
Calcium, magnesium, and manganese.
The development of the skeleton, muscles, nerves, and ligaments in the fetus would be impossible without these important minerals. They are found in abundant quantities in both dried fruits and nuts, which makes them the best foods for pregnant women.
Vitamins.
The whole spectrum of vitamins is presented in nuts and dried fruits. All of them are essential for a future mother and her unborn baby. Eating dried fruits and nuts lowers the risk of high pressure and preeclampsia during the last weeks of pregnancy due to their richness in vitamins, especially vitamin E.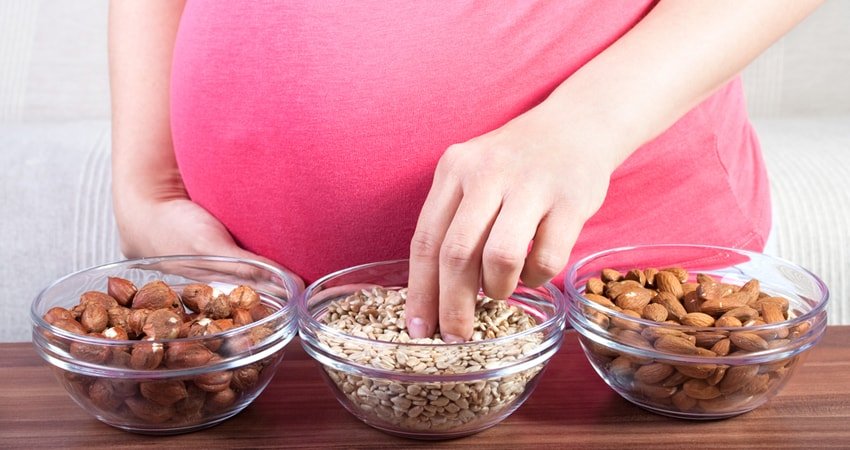 Precautions for Eating Dried Fruits and Nuts
Choose "sundried fruits", i.e., those that have been dried naturally. Fruits that have been processed in a plant may contain acrylamide, a toxin that is formed in foods if they are heated for a long time. It affects the nervous system and fertility.
Be aware of sulfur dioxide, a preservative that makes dried fruits look nicer. It can be dangerous for people prone to allergies. Buy organic fruits and nuts, which are free from possibly harmful substances.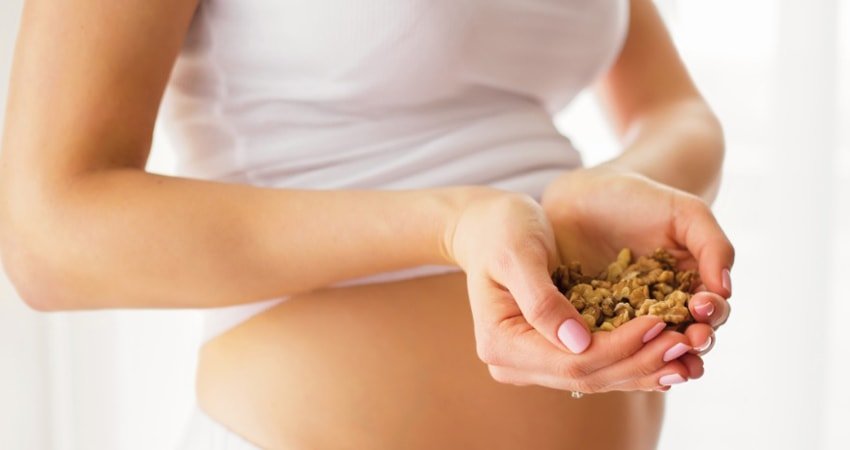 Several Ways to Consume Dried Fruits and Nuts
They are very convenient for cooking home-made energy bars, adding to cereals, mixing into yogurts, and tossing onto salads.
They are great for preparing desserts – puddings, toppings, and butter.
Try different combinations until you find your favorite mix. There are no rules – only your taste and creativity.