November 04, 2015 · Written by Foodtolive Team
BBQ: How to Make It a Safe and Healthy Event
For most of us, BBQ is associated with tasty food, warm company of close people, and outdoor entertainments. To enjoy yourself to the full, you need to perform certain preparations and foresee every trifle. The main concern is how to ensure the safety of this event, especially in hot weather.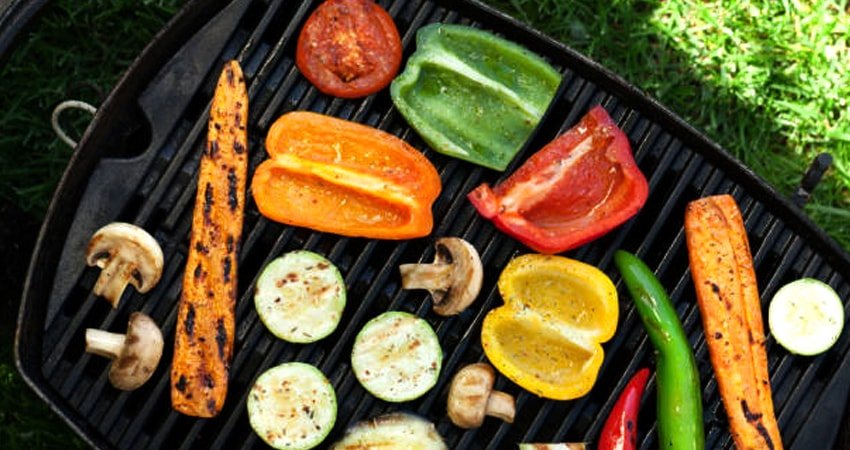 What to Start With
As far as the food will obviously be in the center of everybody's attention, do your best to prepare everything for its cooking:
Get the grill ready.
To get rid of the remnants of grease, preheat the grill and brush the grates thoroughly with warm water. Add a little soap to achieve a better result. The foods won't stick to the clean grill and will preserve their shape, taste, and aroma. Before cooking, pre-heat the grill during 20 – 30 minutes.
Set your fire.
Do it with chips of trees such as hickory, oak, maple, and apple. Due to their smoke, the food will acquire original flavor and peculiar fragrance. Place the chips on the coals. In case of a gas grill, wrap them in a sheet of foil and make several holes in it. Place the wrapped chips not far from the flame.
Prepare marinades.
You are going to make your BBQ a really healthy event, so there'll be neither meat nor meat products. Vegetables, fruits, and soy products are a better choice. Marinades and sauces will be of great help to your creativity. They'll add tenderness and specific flavor to the foods. Additionally, fruits and vegetables will become caramelized, which can be attained only in the process of grilling. You can use a lot of low-calorie and low-cost ingredients for making marinades, such as honey, soy sauce, chili sauce, garlic, wine, vinegar, fruit juices, and spices. Keep the foods in marinade for 1 hour, drain them before grilling.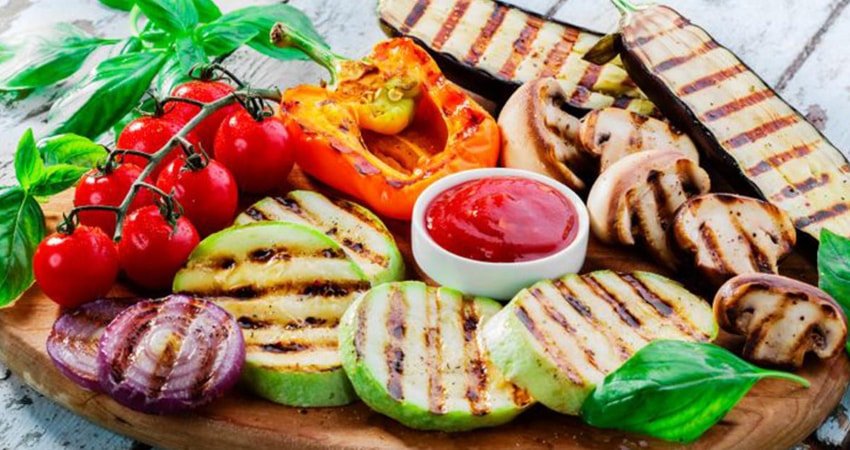 What to Cook
You have a lot of dishes to choose from. The most suitable for a BBQ are as follows:
Kebabs.
It's up to your imagination to combine vegetables, fruits, tofu, and other tasty and healthy things on skewers. Sweet peppers, zucchini, mushrooms, cherry tomatoes, and onion are thought to be the best for this dish. They may alternate with chunks of pineapples, pears, apples, bananas, and other fruits. 
Hot corn.
Pre-cook sweet corn until it's tender, and put it on the grill. Turn the corn to make it slightly charred all over.
Desserts.
Grilled fruits and berries acquire additional sweetness and delicious smell. Chunks of fruits can be speared on skewers or wrapped into foil. You should cook them only a few minutes on low heat.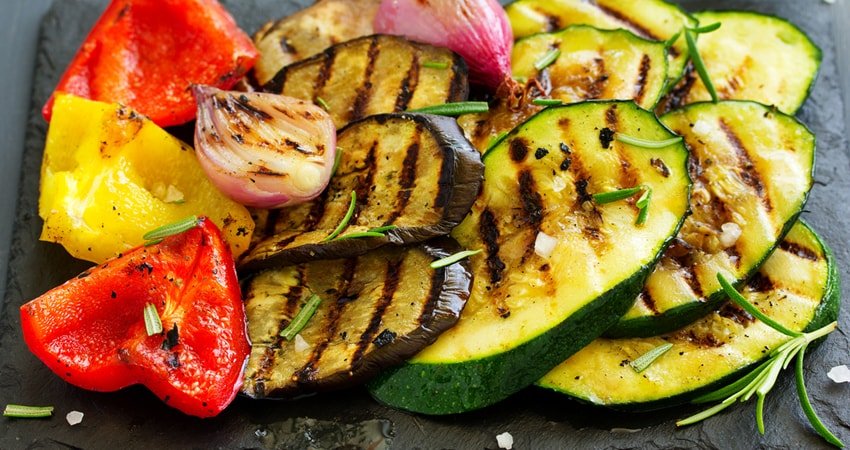 How to Make Your BBQ Safe
Preserve the food in a refrigerator up to the moment of grilling.
Keep your hands and utensils clean, wash them with soap before you start cooking.
Don`t pre-cook the food. It should be processed thoroughly from the beginning to the end during the BBQ.