February 11, 2019 · Written by Foodtolive Team
A Homemade Valentine's Day Candy
Love is in the air and everywhere on Valentine's day. Since this is a special day where you express love to your beloved, friends and family, giving them sweet treats will be more meaningful especially if it is made by you. When you think about sweet indulgence as a gift on Valentine's day, what more can be sweeter than candy? Candies are made of sugar and confectionery that comes in many varieties of texture from soft and chewy to hard and brittle. It also comes in different types of lollipops or suckers, chocolate filled candies, truffles, jelly, gummies and so much more.
A homemade Valentine's day candy need not be complicated nor expensive to make. Here are some wonderful homemade candies that you can enjoy making as gifts for your loved ones.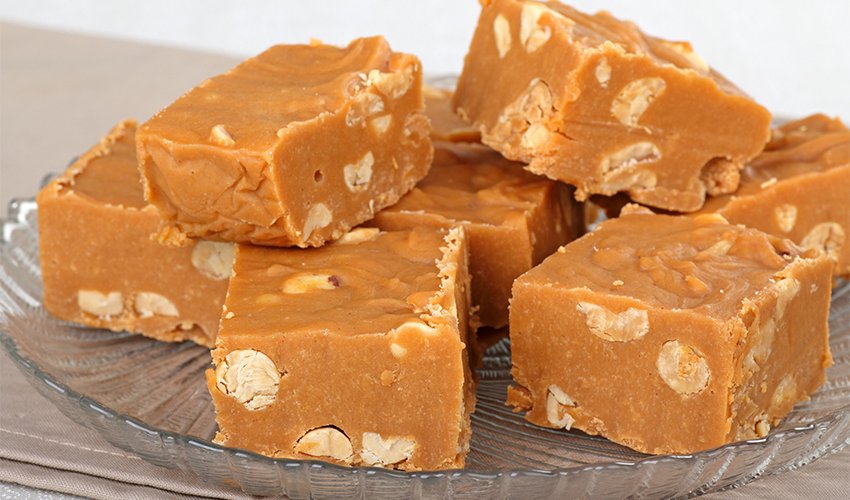 Peanut Butter treats
This is an all-time favorite for peanut butter lovers to make that is crunchy and with a good familiar taste of peanut butter and caramel. You just basically combine caramel into melty peanut butter and fold some peanuts in. Put the mixture in a square pan and as the caramel hardens it creates crispy bits that whirl to the peanut butter. Slice it into bite-size little squares and pack it in a decorative Valentine's themed jar or plastic container with a lid.
Sponsored by Food to live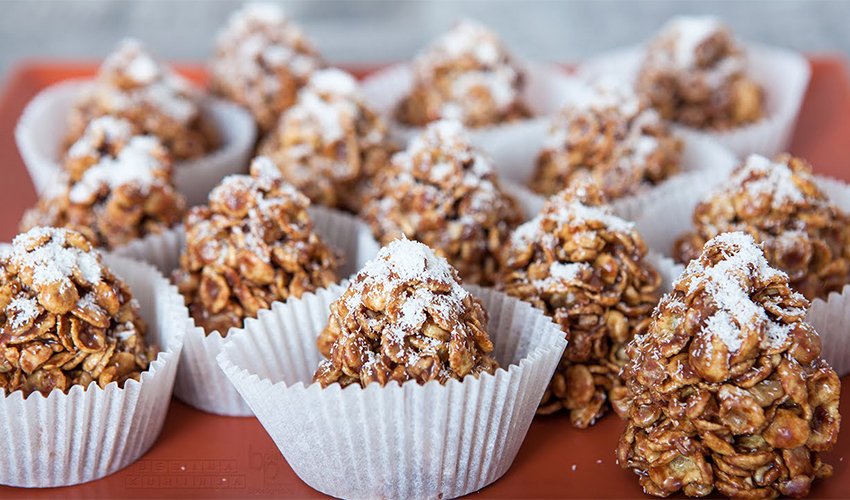 Chocolate Cornflakes
You can never go wrong with chocolates. Who can even resist it? Chocolates are sweets that you can indulge in and feel good afterward. That's what you want your loved ones to feel on Valentine's day as you give them these chocolate cornflakes as a gift. Just simply melt dark chocolate in a microwave and slowly pour melted chocolate in a bowl of cornflakes making sure that the cornflakes are lavishly covered with chocolates. Then quickly work with the mixture by scooping it with a teaspoon and shape them in clusters with another teaspoon. Line it to a baking sheet with wax paper to cool down. You can also use white chocolate for this to make a milky flavored treat. Pack it in a tightly sealed decorated jar or plastic containers with a lid.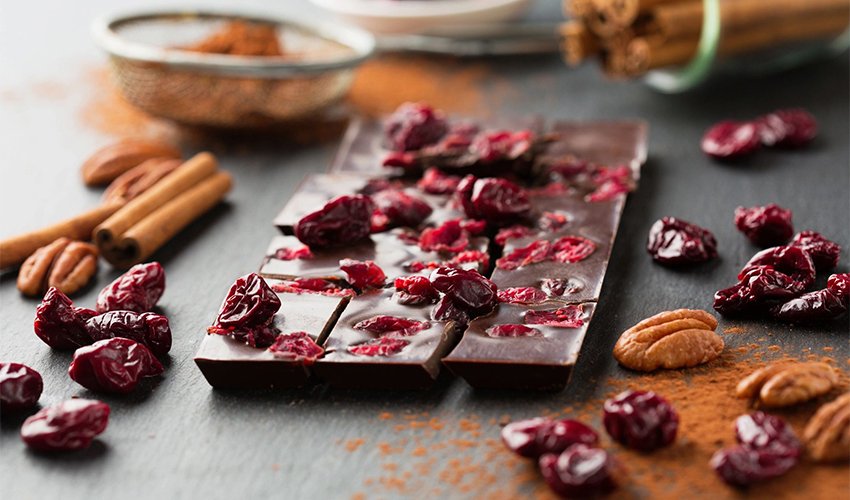 Dark Chocolate with walnuts and dried cherries
Valentine lollipops
Restore those left-over candy canes from Christmas and have it as the centerpiece on your Valentine's gift giving. It's fun to make and so easy. Here's how you do it. Simply put 2 candy canes in a heart shape by touching its end together. Then slide a sucker stick between them. Line them in a baking sheet and heat in 350-degree F oven for 3-5 minutes. Quickly remove from oven when it becomes melty and bubbly. Pinch the ends of the canes on top and bottom making sure that it's fastened well to the sucker stick. Set aside to cool. Meanwhile, melt white chocolate in a microwave. Pour the melted chocolate at the center of the candy cane and smoothen it with your fingers. Add some heart or colorful confetti sprinklers on top. Pack the heart shape canes in clear plastic and tie with red ribbon. Bundle them up to create a bouquet or you can arrange them at the center of bouquet flowers as sweets inclusion to your gift.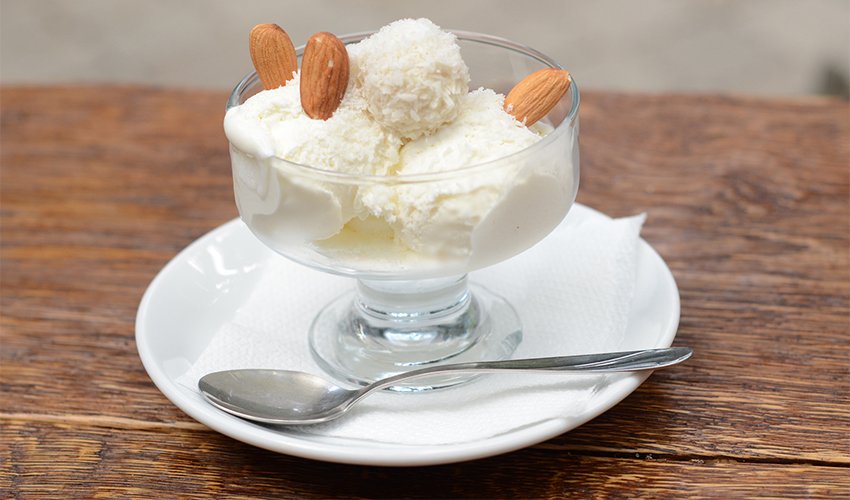 Coconut flake balls
coconut flakes together in a bowl and pour 14 oz can sweeten condensed milk over it. Stir until the coconuts are well coated. Scoop a teaspoon of the mixture and form into a ball or you can use a heart mold to shape it. Bake in preheated 350-degree F oven until it becomes golden brown. Let it cool before packing it in a decorative jar and tie with cute ribbons and a printable tag for sweet notes.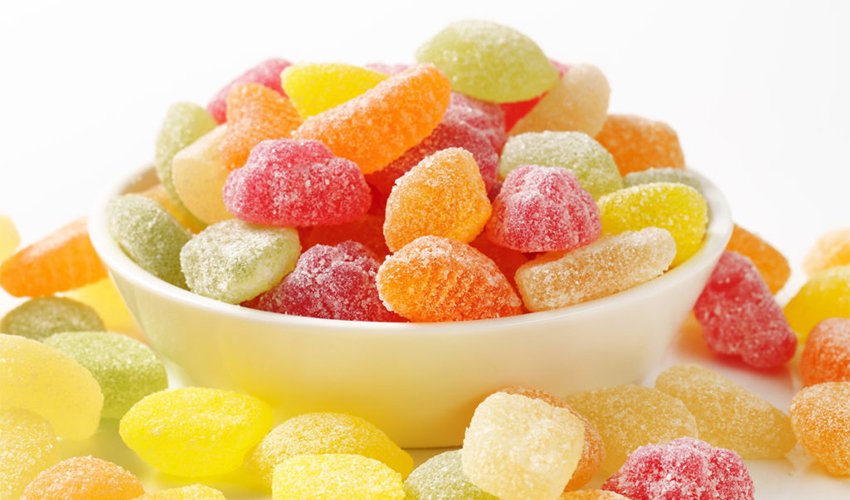 Homemade Gumdrops
Talk about sweets for your sweet, these gumdrops are a perfect match to spread all the sweetness around you. They are cute treats to make and give as gifts for your loved ones. You can prepare this ahead of time and store it neatly in a jar tied with ribbons. Ingredients for this are all amazingly simple yet has an expensive look on it. Combine 1 cup applesauce to 1 cup of sugar in a saucepan. Cook for 2 minutes and pour a 3 oz small package of fruit gelatin in it. Pour the mixture into 8×8 inch pan and let it set for 24 hours. Cut it into pieces. You can use a small heart-shaped cookie cutter to cut it gently as not to break it. Then roll it in sugar. You can add some mint flavor to it for added flavor. You can also divide the ratio of the mixture and pour on different fruit gelatin flavor to it then you'll have a variety of gumdrops in different colors and fruity taste.
Making a homemade candy is certainly a selfless effort that deserves a sweet loving reply of "I love you" in return. Most importantly, expressing one's love are endless and should be professed all year round whatever the reason and season may be. Have a heartfelt Valentine's day!