August 28, 2019 · Written by Foodtolive Team
5 Delicious and Antioxidant Packed Smoothie Breakfast Bowls
Nowadays we hear a lot about the power of Antioxidants – but what are they and how can they improve our health?
Antioxidants are molecules that protect the body from the damaging effects of free radicals. Free radicals can speed up the results of cellular damage, such as aging, inflammation, and even cancer. While antioxidants alone aren't enough to completely stop cellular damage, they can do a lot to help the body repair and heal itself.
Fortunately, antioxidants are easy to incorporate into any diet and come in a variety of nutritious, delicious foods. Berries, spinach, and even dark chocolate all contain high amounts of antioxidants that help your body reach the balance it needs to perform its best.
Sponsored by Food to live
Check out these 5 delicious and antioxidant-packed smoothie bowls for breakfast that will satisfy your hunger for nutrition and flavor.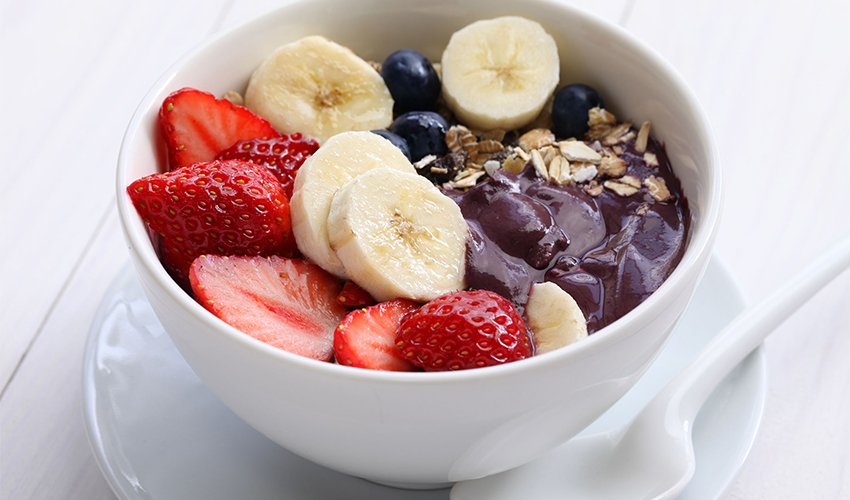 1. Berry Wonderful Acai Bowl
Berries of any kind are the surest (and simplest) way to get more antioxidants in your diet. This acai berry bowl will delight your taste buds and give your body exactly what it wants to keep you alert and focused throughout the morning.
Ingredients:
100 g frozen acai puree packs (find online or at any health food store)
1/4 to 1/2 cup apple juice (you can also use coconut water or your favorite nut milk)
Note: Use less liquid if you are using fresh fruit, more if the berries are frozen.
1/4 cup blueberries
1/4 cup strawberries
1 banana, frozen
Optional: 2 Tbsp chocolate protein powder, ice
Toppings:
Honey
Granola
Your favorite fruits, such as mango or pineapple
Dark chocolate shavings
Instructions:
Blend acai puree, berries, banana, protein powder, and your preferred liquid. Pour in a bowl, then top with honey, granola, coconut flakes, cocoa shavings, and your favorite fresh fruits.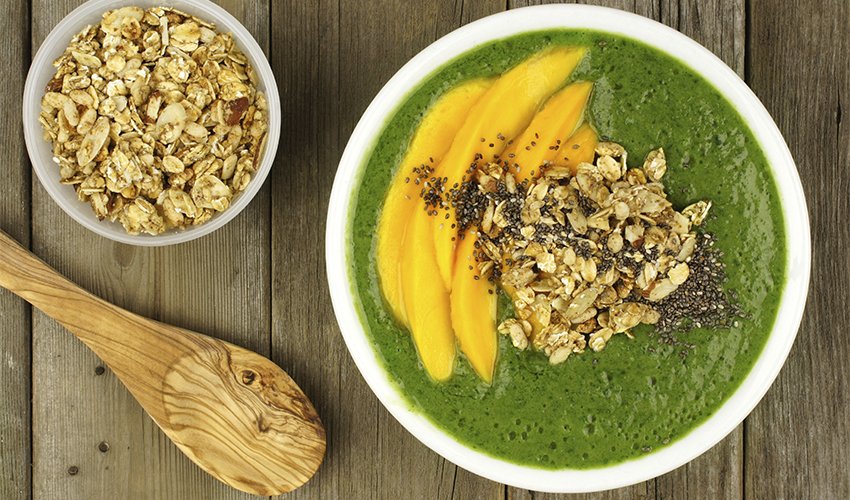 2. Jolly Green Smoothie Bowl
Ingredients:
2 cups fresh spinach
1/2 ripened avocado
3/4 to 1 cup of your favorite nut milk (depending on desired thickness)
2 tbsp flax seeds
1 banana, frozen
1 cup frozen pineapple
1/2 mango, frozen
Toppings:
Granola
Toasted coconut seeds
Your favorite berries
Instructions:
Slice the avocado and frozen banana, pineapple, and mango. Blend on low, adding 1/2 cup of your preferred liquid.
Scrape the sides of the bowl as it blends. Add more liquid as needed.
Once the mixture thickens, blend on high until mixture reaches the consistency of a sorbet.
Top with your favorite ingredients.
3. Cheery Cherry Pomegranate Bowl
This smoothie bowl is so deliciously sweet that you'll think you're eating dessert for breakfast.
Ingredients
1.5 banana, frozen
1 cup raspberries, frozen
1 cup cherries, frozen
2 scoops vanilla protein powder
1/2 cup of your favorite nut milk
Toppings:
Pomegranate seeds
Granola
Chia seeds
Instructions:
Blend ingredients on high until mixture reaches the desired consistency. For a thicker smoothie, use less milk. Pour in a bowl and sprinkle with your favorite toppings.
Sponsored by Food to live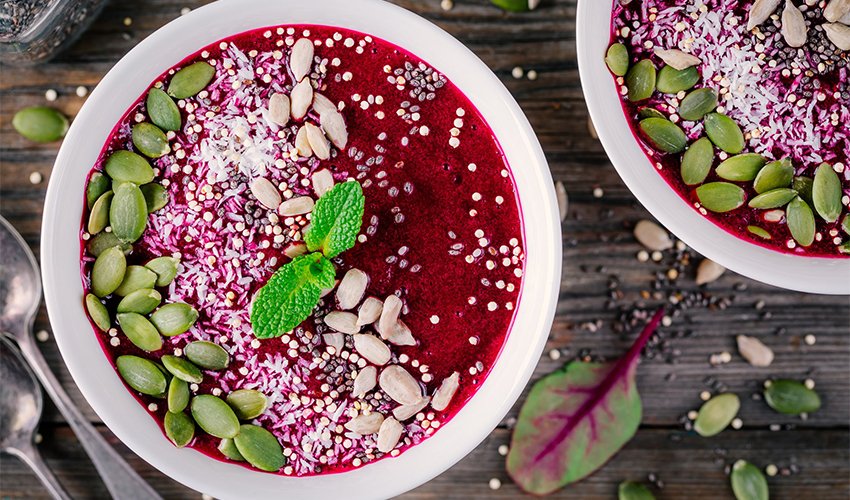 4. Sweet Beet Smoothie Bowl
Beets may not be the first ingredient that comes to mind when you think of breakfast, but this recipe is sure to both delight and surprise anyone who gives it a try.
Ingredients:
1/2 cup beets, peeled (about 1 medium-sized beet)
1/2 banana, frozen
2 dates or agave (for sweetness)
1.5 cups assorted berries, frozen
2 cups spinach
1/2 cup of your favorite nut milk
1 tbsp chia seeds
Toppings:
Granola
Chia seeds
Fresh fruit (try sliced blueberries, strawberries, and kiwis)
Instructions: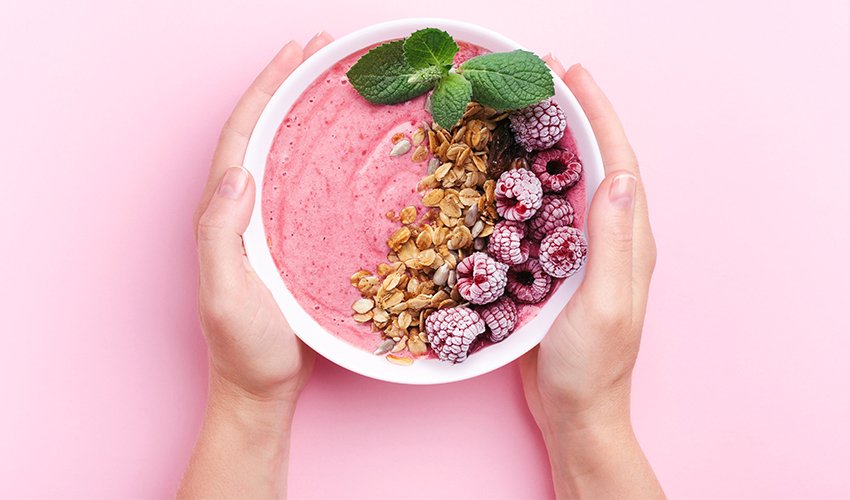 5. Sweetheart Smoothie Bowl
Raspberries and dark chocolate aren't only for Valentine's Day! Try our decadent Sweetheart Smoothie Bowl: the antioxidants in this recipe are great for the heart and will do wonders for your cardiovascular health.
Ingredients
1 banana, frozen
1 tbsp Chia seeds
Dates
1 cup raspberries, frozen
1/4 Walnuts, roughly chopped
1/2 cup of your preferred nut milk
Cocoa powder or finely chopped dark chocolate
Toppings:
Oats
Raisins or dates
Crumbled walnuts
Chia seeds
Shaved dark chocolate
Instructions:
Blend ingredients until they reach a thick, consistent texture. Add more liquid to thin if needed. Place in the refrigerator to chill overnight. In the morning, remove and top with your ingredients.
Power through your day with antioxidants
Starting your morning with a nutrient-packed meal like these smoothie breakfast bowls is the best way to begin any day. Each recipe has the protein, fiber, but most of all, antioxidants, to keep you feeling healthy and full for hours.
Eating antioxidant-rich foods like berries each day is one of the best things you can do for your health. Protect your body the natural way and try some of these smoothie bowls for your next breakfast.