February 20, 2017 · Written by Foodtolive Team
4 Quick and Healthy Snack Ideas for Vegetarians to Enjoy
Having a snack when you are feeling low on energy is the right thing to do. However, to make sure that this small meal brings you benefits instead of problems, such as extra weight, you need to make sure it's low-calorie and generally good for you. Today we'll be sharing some of our most favorite quick and healthy snack ideas for vegans and vegetarians.
The recipes are all easy and these treats can be eaten at any time during the day. Some of them must be pre-made, but they can keep for a while, so you can do this on weekends. Other recipes are for emergencies, when you need to whip something up within minutes. However, all of them are full of nutritious ingredients that would give you a boost of energy, instead of providing you with unhealthy fats, like junk foods.
Quick and Healthy Snack Ideas: Vegan and Vegetarian Treats

Clementine+Banana+Coconut Smoothie
You can't skip breakfast if you want to be healthy, and this amazing smoothie makes the perfect recipe for when you are pressed for time. You may experiment with the ingredients to tailor the mix to your personal tastes.
Ingredients:
½ frozen avocado (peeled)
1 frozen banana
1 clementines (peeled)
½ cup coconut milk (+ 2 tablespoons of the creamy substance at the top of the can)
2-3 Medjool dates (pitted)
1 tablespoon lemon juice
½ teaspoon almond extract
Instructions:
Like any smoothie, just process the ingredients together in your blender until you get the necessary texture. It would be creamy due to avocado and frozen fruits.

Chia Bars with Coconut and Cranberry
Of all the quick and healthy snack ideas for vegetarians we love, this one would be best for giving you a boost on a tiring day at work. Due to the seeds and nuts, the bars are highly nutritious without being overwhelmingly full of fats. The fruits create a delightful taste that would help relieve stress.
Ingredients:
1 ½ cup oats (ground in a blender)
½ cup regular oats
3 tablespoons chia seeds
1 teaspoon baking powder
1 ½ cup shredded coconut
¼ cup pistachios
½ cup cranberries (dry)
½ teaspoon salt
6 tablespoons lemon juice
2 tablespoons lemon zest
½ cup applesauce (unsweetened)
1/3 cup agave syrup
4 tablespoons coconut oil
Sponsored by Food to live
Instructions:
Soak chia seeds in lemon juice and leave them to gel up while you are busy with other ingredients.
Mix oat flour, salt, baking powder, pistachios, cranberries, coconut, zest, and oats in a large bowl.
Whisk together liquid ingredients and add them to the gelled up chia seeds.
Combine all the ingredients together, mixing carefully.
Bake for 20 minutes in a pre-heated oven (350F) on a baking sheet covered with oiled parchment paper.
Let cool before cutting.

Banana+Oats No-Bake Vegan Cakes
This is one of our favorite quick and healthy snack ideas for a gluten-free diet. Kids would love these cakes and you can make them fast to impress the guests who drop by for a surprise tea. You can make them even tastier by adding chocolate chips.
Ingredients:
1 banana
¼ cup rice cereal
½ cup oats
½ tablespoon peanut butter
1 tablespoon maple syrup (or agave)
1 teaspoon cocoa powder
Instructions:
Stir together maple syrup, peanut butter, and cocoa.
Mash the banana and add it to the syrupy mix.
Add rice crisp and oats.
Put the 'batter' into muffin tins and into the freezer for 60-80 minutes.
Eat while chilly.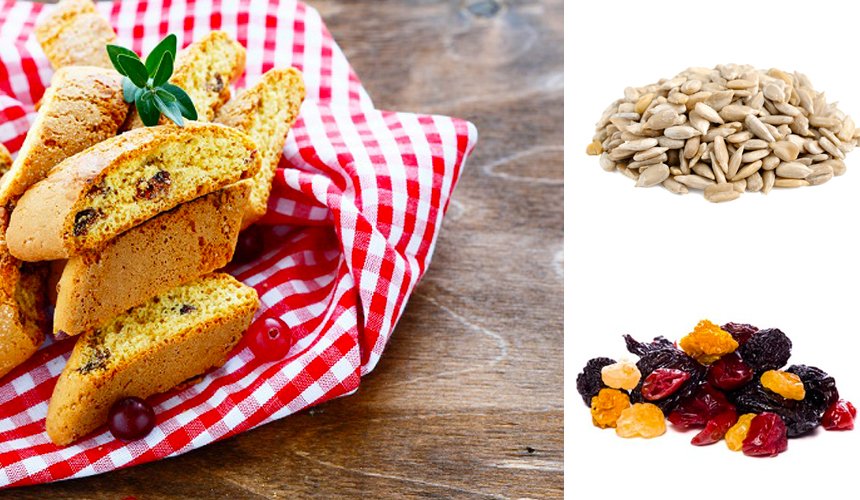 Biscotti with Seeds and Dried Berries
This is probably the most beneficial of all our quick and healthy snack ideas as the biscotti literally pack a nutritional punch. They make a great travel snack.
Ingredients:
2 cups sunflower seeds
1 tablespoon flaxseed (ground)
1 tablespoon arrowroot starch
¼ teaspoon salt
1/3 cup pumpkin seeds
½ cup dried berries (any you like, chopped)
¼ cup maple syrup
2 tablespoons water
1 teaspoon vanilla extract
Instructions:
Pour water onto the ground flaxseed and set aside.
Make sunflower seed meal by processing them for a minute in a blender.
Mix the meal, starch, and salt.
Add pumpkin seeds and berries.
Whisk together maple syrup and vanilla extract and add them to the bowl with flaxseed. Mix thoroughly.
Combine both bowls and mix everything thoroughly. The liquid from the ingredients should be sufficient, so just stir longer until your get dough is reasonably damp.
Line a baking sheet with oiled parchment paper. Split the dough into two parts and form two rectangle-like shapes 6 by 4 inches. They should be about an inch thick.
Preheat the oven to 350F and bake the biscotti for 20 minutes.
Take out from the oven and let cool for 20 minutes.
Reduce the temperature to 275F.
Cut the biscotti into inch-thick pieces.
Put the biscotti back into the oven and bake for 15 more minutes. Let cool before eating.