September 05
3 Tips on How to Cut the Cost of Organic Food for Vegans
Organic food is considered healthier for a good reason as it's devoid of all the nasty chemicals that both reduce the nutritional value and make the produce mildly toxic. However, the cost of organic food is higher than that of other products, so it may seem that it would be difficult to afford. Our special tips will help you do this and enjoy healthy and delicious vegan meals every day.
Tip 1: Prioritize Your Purchases
The higher price of this produce is justified because running an organic farm is more expensive. Therefore, there is no avoiding the fact that you have to pay more for it as cheap organic food doesn't exist today.
The best way to work around this problem is to limit the number of organic products you buy. Try to avoid the so-called 'dirty dozen' of foods most laden with pesticides:
Apples
Nectarines
Peaches
Celery
Grapes
Strawberries
Sweet bell peppers
Spinach
Cucumbers
Cherry tomatoes
Imported potatoes
Snap peas
The cleanest products, on the other hand, are:
Avocadoes
Cauliflower
Onions
Eggplant
Kiwi
Asparagus
Sweet corn
Pineapples
Cabbage
Sweet potatoes
Keep these distinctions in mind when choosing which organic products to buy.
Sponsored by Food to live
Tip 2: Meet the Farmers at the Local Market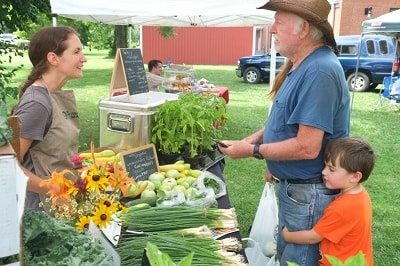 The farmer's market is the place you should go to in order to cut the cost of organic food significantly. However, don't just look for organic-certified products there as this kind of certification is rather expensive. Many farmers who use these practices simply cannot afford it. However, if you meet them and talk about how they grow their vegetables, you'll be able to learn just how 'healthy' the produce is.
Tip 3: Look for Bargains
There are many ways to get a bargain when trying to cut the cost of organic food. First of all, start shopping online as this way you'll get lower prices by default. You can also make use of coupons and special offers often initiated by online stores.
Next, you should consider buying in bulk. Foods like seeds, spices, nuts, and dried legumes can keep for months. You just need to stock up your pantry and wait for the next sale.
Finally, buy organic produce when you see a bargain. Even if it doesn't fit into your weekly meal plan, you can freeze or otherwise preserve it and use the food in the future.
Food to Live offers a wide selection of organic foods at affordable prices. Check out our store to snatch the best deal.