June 06, 2016 · Written by Foodtolive Team
3 Delicious Vegetarian Lunch Ideas for Your Family
Maintaining a vegetarian diet can be extremely pleasant as there are hundreds of amazing recipes that will allow you to create magnificent dishes from seemingly plain ingredients. Today we want to share some of our favorite vegetarian lunch ideas that your whole family is sure to love. The majority of the dishes can be packed so you can enjoy them during your break in the office.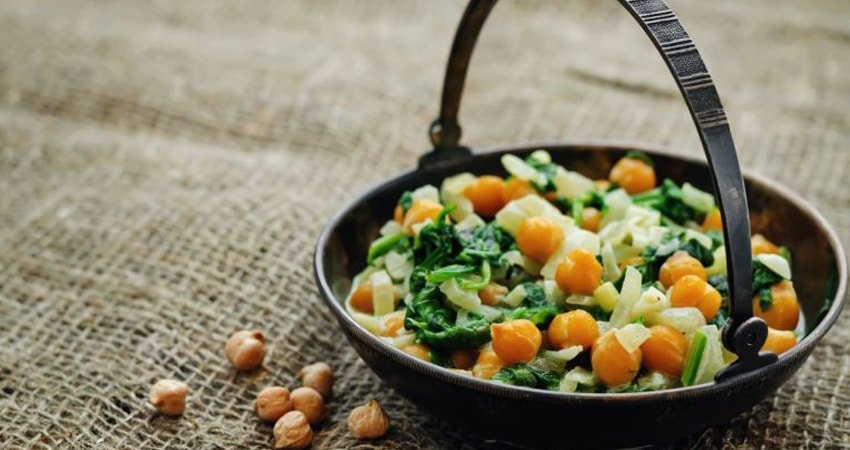 Vegetarian Lunch Salad with Chickpeas and Spinach
This dish is one of the healthiest options you can choose for this important meal as it contains chickpeas, full of dietary fiber and essential nutrients, and spinach, one of the best foods ever. It will provide you with a boost of energy to carry you through the remainder of the day at work or school. 
Sponsored by Food to live
Ingredients:
Chickpeas (canned or pre-cooked)
A handful of spinach
100g of feta cheese
1 tablespoon of white vinegar
5 tablespoons of olive oil
1 tablespoon of honey
Salt
Cayenne pepper
Raisins
Instructions:
Chop spinach and cheese before mixing them with chickpeas in a large bowl.
Mix vinegar, oil, honey, and raisins in a separate bowl before adding the spices and mixing some more.
Pour the dressing over the other ingredients and enjoy your delicious salad.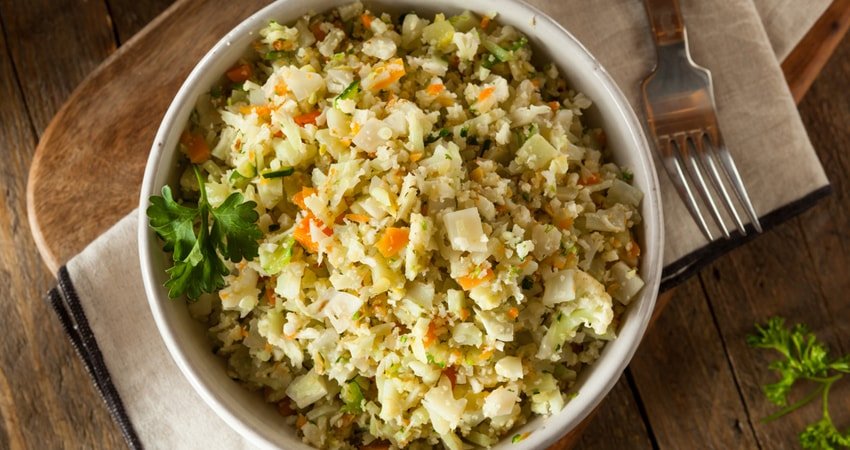 Egg Fried Cauliflower Rice
This incredible vegetarian lunch recipe gives you a nutritional boost and you are sure to love its unique flavor as well as reap all the benefits of cauliflower rice, the rising superfood avidly promoted by Jamie Oliver.
Ingredients:
1 grated cauliflower head
1 small diced onion
2 tablespoons of coconut oil
Diced red, green, and yellow peppers
Half a punnet of halved cherry tomatoes
2 eggs
½ cup of peas (frozen or pre-cooked)
Soy sauce
Salt and pepper
Instructions:
Fry onion and peppers for about 3 minutes in coconut oil.
Add tomatoes and peas and stir-fry for about 2 more minutes.
Add the eggs, but only pour them over the veggies without stirring first. Leave for about 30 seconds before scrambling eggs and vegetables.
Add cauliflower rice and fry the mix for 4 minutes more (until the cauliflower turns soft).
Season with the sauce and spices to your personal taste.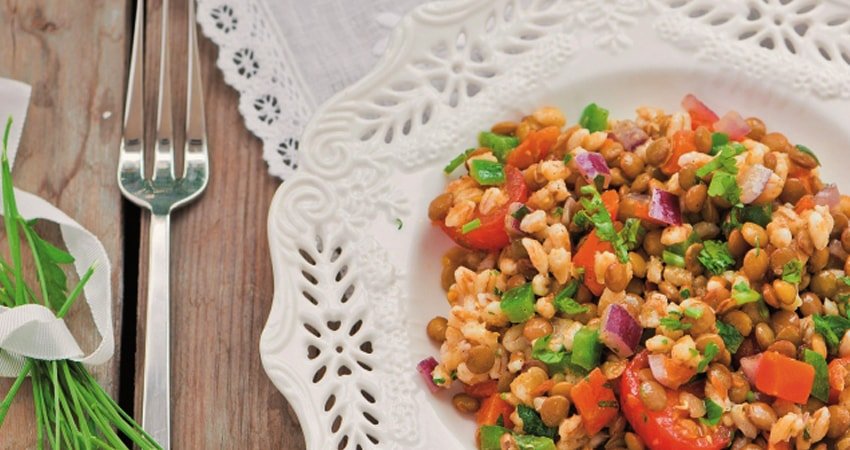 Red Lentil and Olive Salad
Another delicious and nutritious vegetarian lunch option that offers the health benefits of lentils under an amazing sauce.
Ingredients:
1 cup of red lentils
3 cups of water
1 bay leaf
1 cup of roughly chopped olives
A handful of halved cherry tomatoes
4 ounces of feta cheese
½ cup of plain Greek yogurt
¼ cup of chopped fresh mint
¼ cup of olive oil
Instructions:
Bring lentils to a boil (add bay leaf) and cook for 15 minutes.
Drain water and add tomato halves.
Let cool and put in the fridge for the dish to get cold.
Mix feta cheese, yogurt, olive oil, and mint in a food processor to make a dressing.
Top your salad with cheesy-mint dressing and enjoy.
You can also check out our delicious vegan cake recipes for any party.