January 26, 2018 · Written by Foodtolive Team
3 Amazing Buckwheat Flour Gluten-Free Cookie Recipes
These fantastic buckwheat flour gluten-free recipes for cookies will be perfect for anyone with a sensitivity to this protein. This particular flour does not only reduce the calorie count of the final product but also gives it a unique rich flavor.
Best Buckwheat Flour Gluten-Free Cookie Recipes to Try
'Death By Chocolate' Buckwheat Flour Cookies
12 ounces bittersweet chocolate
6 tablespoons butter (unsalted)
½ cup organic buckwheat flour
2 tablespoons tapioca flour
¾ teaspoon baking powder
1 ½ teaspoons orange zest (finely grated)
2 eggs
½ cup + 2 tablespoons organic cane sugar
1 teaspoon vanilla extract
½ teaspoon sea salt
Instructions:
Pre-heat the oven to 350F and prepare two thin cookie sheets lined with parchment paper.
Sift together tapioca and buckwheat flours as well as baking powder.
Melt the butter with 8 ounces of chocolate and orange zest in a pan with the thick bottom on the lowest heat setting. Stir constantly and remove from heat when combined and warm but not too hot.
Whip eggs, salt, and sugar together using a mixer or an immersion blender until very fluffy and soft. Add vanilla extract using a low setting on the appliance.
Add chocolate-butter mixture to the whipped eggs and sugar. Combine using a mixer on low.
Add flour mixture to the batter using the same device.
Fold in the remaining 4 ounces of chocolate (broken into pieces).
Wait until the batter cools a bit so it has the consistency of brownie batter and uses a spoon to scoop cookies onto the baking sheet. You can top them off with more chocolate chunks.
Bake two sheets at the same time, one at the top and one at the bottom for 8-12 minutes. Switch them halfway rotating front-to-back in the meantime. Let cool before removing from the baking sheets.
These fantastic buckwheat flour cookies will make the wait for an effective gluten sensitivity treatment truly enjoyable. They taste incredible and will make great comfort food for cold winter days (or any other day) when you need an extra boost of something truly good.
Sponsored by Food to live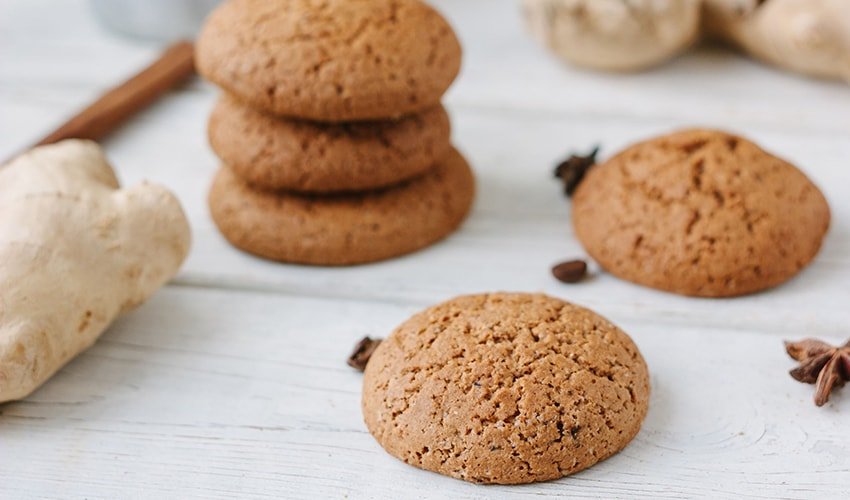 Buckwheat Flour Gluten-Free Cookies with Ginger
Ingredients:
½ cup butter (unsalted)
¾ cup of sugar
1 ½ cups organic buckwheat flour
1 egg
½ teaspoon baking powder
2 teaspoons ground ginger
½ teaspoon salt
2 or 3 stem ginger in syrup
Whip together butter and sugar until fluffy using a mixer before adding the egg and whipping some more.
Add dry ingredients gradually and form cookie batter.
Fold in chopped stem ginger.
Cover the bowl with the dough using plastic food wrap and set to chill for 30 minutes.
Form balls of dough with your hands and squeeze them a bit to make cookies.
Bake cookies at 350F in a pre-heated oven for 12-15 minutes and let cool.
You can play around with this recipe by adding chocolate chips or crushed nuts to the batter. You can also use less (or more) stem ginger depending on the intensity of taste you seek.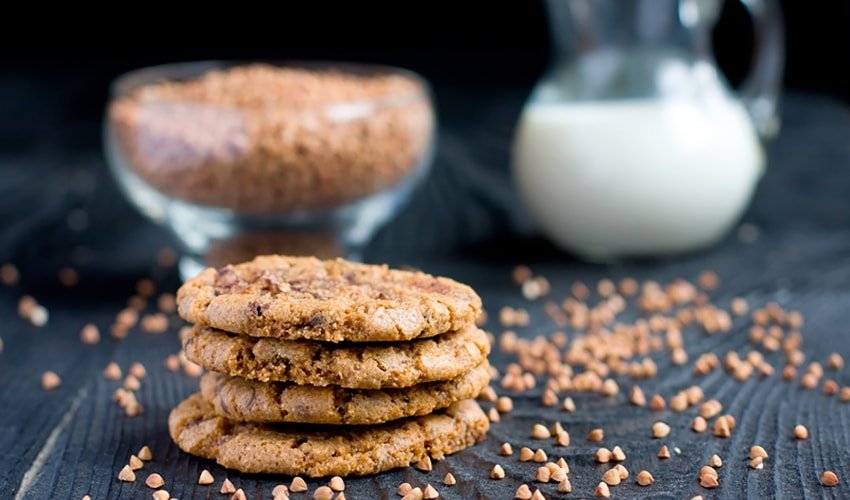 Simple Buckwheat Flour Gluten-Free Cookies
Ingredients:
1 ½ cups organic buckwheat flour
½ cup of sugar
¾ cup of coconut oil
1 egg
1 teaspoon baking powder
½ teaspoon salt
Instructions:
Whip together coconut oil and sugar before adding an egg. Use a mixer or an immersion blender.
Add dry ingredients and mix to make the dough.
Form small balls of cookie dough and place them on baking sheets covered with parchment paper. Flatten them with your hands.
Bake for 10-12 minutes at 350F.